The first vision of hit-run driver Puneet Puneet have been released after he was remanded in police custody in India for killing a young student in Melbourne 13 years ago.
Puneet was a 19-year-old learner driver behind the wheel of a V6 Commodore when he lost control and hit students Dean Hofstee and Clancy Coker in Southbank, Melbourne, in 2008. Mr Hofstee was killed and his friend was severely injured.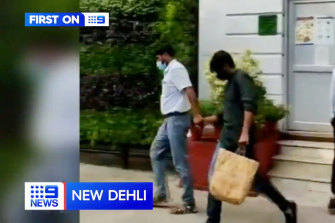 In video obtained by Nine News, Puneet was seen leaving a New Delhi courtroom with officers by his side and his parents following closely behind.
Wearing a green long-sleeved shirt, jeans and carrying a brown paper bag, it is the first time the man has been seen since he surrendered himself to police on Friday.
Victoria Police said Puneet was expected to appear in court on Friday, September 10.
Puneet pleaded guilty to culpable driving in Victoria and was awaiting sentencing in 2009 when he absconded on a passport borrowed from a friend.
He was arrested in India in 2013 – on his wedding day – and has since faced protracted extradition hearings to determine if he should be sent back to Melbourne.
Last year, the Victorian government sought help from the federal government after reports Puneet had gone missing in India ahead of his expected extradition to Australia.