At 11.08 the next morning Brandis was dialling Javid once more. The calls continued all weekend.
On Thursday night, they met in person at Australia House at the end of the Strand for the first time since beginning the negotiations to sign the memorandum of understanding.
Loading
The job was done. Morrison announced to the Australian public on Friday morning that the 4 million doses that made up the deal would "supercharge" the country's vaccine rollout, which had been plagued by early mishaps.
But for the team in London, the job was far from over. The next task was how to get the Pfizer doses as quickly as possible into Australian arms. Shipping was not an option.
The doses need to be transported at ultra-low temperatures. Because of the caps on passengers that the national cabinet has imposed since July last year, there are just a handful of commercial flights into Australia, meaning trying to send the doses via existing air freight would have meant a seven-day delay.
It was decided to charter a Qantas freight-only flight.
The first shipment departed on Saturday morning local time from Heathrow, packed with so many doses – nearly half a million – that Qantas had to obtain special permission from the Civil Aviation Safety Authority to land because the flight was heavier than normal.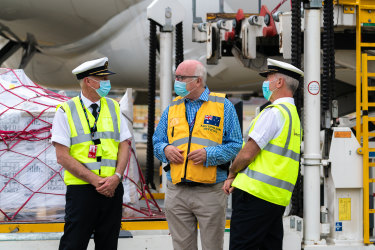 The first 450,000 doses of the promised 4 million arrived into Sydney on Sunday night.
The freighter, flight QF110, refuelled in Darwin before its final stop in Sydney. QF10, a repatriation flight that also left on Saturday with doses refuelled in Perth. The Australians onboard will be flown from Perth to Hobart and the doses flown on to Sydney.
Captain Phillip Emanuel, from Armidale, NSW, is flying QF110 and her lifesaving cargo home.
"I am very proud to be playing my small part to take that story to its next chapter, and help fly Australia to the next phase of our response with this first vaccine-delivery flight from London," he said.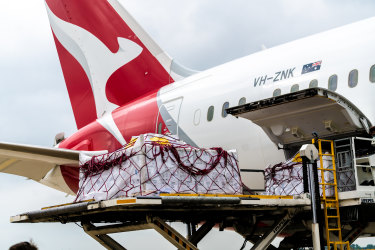 "If I had a simple message for my family back home – it's to book your jab as soon as possible and take advantage of the doses already at home and the 4 million on their way from London."
Only three countries have sent vaccines Australia's way: Singapore, Poland and Britain, which is contributing the highest number by far.
Brandis said that once again Australians had been reminded that they had no truer friend.
"This is a win-win deal for the UK and Australia," he said.
"Four million doses of hope are flowing to Australia today, and we are reminded that Australia has no truer friend than Britain."
Get a note direct from our foreign correspondents on what's making headlines around the world. Sign up for the weekly What in the World newsletter here.