Global output is rising steadily, and disruption seems unlikely, he said. Production could cross 12 billion doses by the end of the year, including shots in China, Airfinity estimates. That's more than the roughly 11 billion required to vaccinate the world.
Western countries have about 500 million doses available to be redistributed today, some of that already donated, with that number rising to about 2.2 billion by the middle of 2022, the analysis shows. The Pfizer and BioNTech vaccine accounts for about 45 per cent of the available shots that could be redistributed, while Moderna's is estimated to make up roughly a quarter of the total.
Loading
Many lower-income nations are relying on Covax, an initiative led by groups including the World Health Organisation that's designed to provide fair access to the shots for every country, but the program has fallen short of its targets. COVID-19 booster plans should be postponed until more shots are distributed to countries where they're scarce, WHO Director-General Tedros Adhanom Ghebreyesus has said.
Meanwhile, President Joe Biden's booster program is mired in controversy of its own, having encountered pushback from health authorities in the Food and Drug Administration and the Centres for Disease Control and Prevention who say scientific support is lacking. Health leaders in the European Union have also said that boosters aren't yet needed as the current regimens of COVID-19 shots remain effective.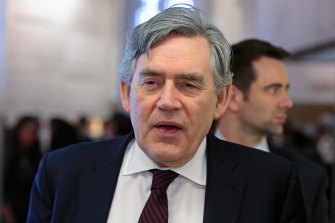 "High-income countries have ordered over twice as many doses as are needed for their populations," the former co-chairs of the panel that reviewed the COVID-19 response wrote last week. "Now is the time to show solidarity with those who have not yet been able to vaccinate their frontline health workers and most vulnerable populations."
Loading
It's not just a question of having the means to acquire COVID-19 vaccines, Bech Hansen said. There needs to be a more co-ordinated effort globally to allow countries with ample supplies to resell and donate doses, he said.
"It's not a purely high-income-world, low-income-world discussion — it's a little more complicated than that," he said. "One could imagine the US, the UK and the EU getting together and agreeing on a way forward."
That view was echoed by former British prime minister Gordon Brown, who accused rich countries of committing a "moral outrage" by stockpiling COVID-19 doses. Brown, who is a United Nations special envoy, called on US President Joe Biden and other Group of Seven leaders to urgently ship vaccines from warehouses in America and Europe to Africa.
"We are in a new 'arms' race – to get vaccines into people as quickly as possible – but this is an arms race where the West have a stranglehold on the vaccine supplies," Brown said.
The grip of rich countries on vaccine stocks was stopping Covax, the international facility for buying vaccines, from meeting its promise to send 2 billion vaccines to poorer countries this year, he added.
Bloomberg, Reuters