AJ's parents, Anthony and Kelly Elfalak, reported him missing on Friday morning and spent Sunday scouring their property for him in a private helicopter.
Trail bikes, sniffer dogs, horses, helicopters and police divers were also used to search the remote 650-acre farm, which has 15 dams flanked by dense bushland.
One of the dams was drained by an excavator on Sunday morning.
AJ has short dark hair and was last seen wearing a grey jumper and pants.
A close friend of the family reported that they had seen a "suspicious vehicle" which looked like a white Toyota Hilux on the farm's private road around the time AJ went missing.
NSW police superintendent Tracy Chapman said all angles were being explored in the investigation.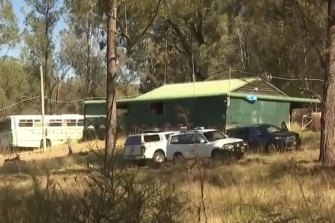 "We're following up any leads of inquiry that we might have, ensuring that everything is pursued by our investigators," she said on Sunday.
AJ's father, Anthony Elfalak, said the family was extremely stressed by the situation.
"A kid just doesn't pick up and disappear," he told Nine News. "Not from here. Not from these parts."