Australia's first cricket meeting with the Afghanistan men's team since the Taliban takeover may arrive far sooner than the scheduled Hobart Test match in November, even as doubts grow over any chance of the women's game being allowed to continue in the strife-torn nation.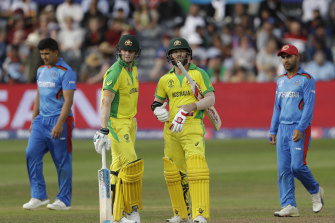 Cricket Australia is considering whether to play Afghanistan among its warm-up fixtures for the Twenty20 World Cup in the UAE next month, having earlier discussed the possibility of a T20 triangular series also involving the West Indies.
Sources told The Age and The Sydney Morning Herald that Australia is set to play a warm-up match against India on October 18 in Dubai, two days after the conclusion of the IPL.
The CA Board met on Friday amid a flurry of backroom conversations about the future of cricket engagement with Afghanistan under the Taliban. Should the women's program be discontinued, the ICC's board would be forced into facing the awkward question of whether or not it could recognise a full member nation that only allowed male players to take part.
"Cricket Australia is in regular contact with the International Cricket Council (ICC) and the Australian Government regarding the situation in Afghanistan and the upcoming tour of the Afghanistan Men's Cricket Team," A CA spokesperson said on Monday.
"As of today, Afghanistan is a full member nation of the ICC and as such is scheduled to play the ICC T20 World Cup next month, followed by the Hobart Test. Clearly, some of the issues arising are significant global matters which transcend the game of cricket which we, and many hundreds of millions of people, love.
"Cricket Australia considers itself a leader in driving the evolution and promotion of the women's game globally, as evidenced by the ICC Women's T20 World Cup final at the MCG last year. Our vision for cricket is that it is a sport for all, and we continue to support the game unequivocally for women and men at every level of the game."
Other female athletes, notably members of the national soccer team, have already fled the country. "Every woman playing cricket or other sports is not safe right now," one unnamed Afghanistan women's player told the BBC.
"The situation is very bad in Kabul. We have a group on WhatsApp and every night we are talking about our problems and sharing plans about what we should do. We are all hopeless."