Was the season a success?
(15th in 2020) 7 wins, 13 losses, 2 draws in 2021
We weren't sure what we were going to see from Hawthorn in 2021. Their form was inconsistent leading up to their bye but in typical fashion under Alastair Clarkson, they knuckled down and produced some great results in the second half of the season. The Hawks plan for the opposition as well as anyone in the competition, and they took out some contenders while unearthing some exciting players. Across half-back, Will Day and Changkuoth Jiath look exciting; Jack Scrimshaw finished off the season outstandingly well and is justifying his lofty selection in the draft. The moves of Tim O'Brien to defence and Jacob Koschitzke to the key forward role worked well, Tyler Brockman excelled as a roaming forward, and with James Sicily and Jarman Impey to return I am bullish about their chances of making the finals next year. The unknown is new coach Sam Mitchell; for Hawks supporters' sake, I hope the hierarchy know what they are doing.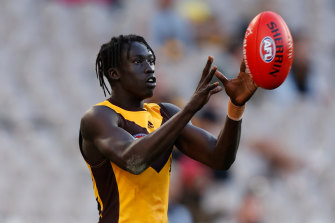 What needs to happen during the off-season?
The Hawks have a good hand in the draft, and they need to use it wisely because they are at least three years away from challenging again. They can trade or go to free agency in 2022. They picked up a gun last year in Denver Grainger-Barras and their defence looks dangerous. If Luke Breust and Jack Gunston remain, which I expect they will, their forward line can also cause some havoc. The midfield has a very familiar look – tough inside mids who can defend, win their own ball and use it well, but besides Chad Wingard they lack genuine line-breaking speed and this is an area they have to target in the draft or trading. Trouble is, no one is giving away quick, skilful midfielders, so to the draft it is.
How should they approach the November draft? (Picks 5, 21, 24, 56, 62)
They will hope Finn Callaghan is available at pick five, but he'll more than likely have been snapped up by then, so maybe a trade is in order to move that pick up. Hawthorn have a very well-balanced best 28-odd players. The big interest next year will be: what does their brand of football look like? Is it sustainable? Does it win finals? Is it too defensive or too attacking? They certainly have weapons to score off half-back and their forward line is going to be very mobile and flexible, although it does lack a big competitive beast down there. Maybe that's where Ben McEvoy plays his last couple of years.
15th. ADELAIDE
Was the season a success?
(18th in 2020) 7 wins, 15 losses in 2021
If you said at the start of the year that Tom Lynch would be out injured for most of the year and Daniel Talia, Matt Crouch and Wayne Milera wouldn't play at all, with Luke Brown, Rory Sloane and Taylor Walker also missing matches, you'd think they would be lucky to win a game. That they won seven is a testament to the work coach Matthew Nicks and his team have performed over the past two years. They have played with excitement, energy and effort, and given their supporters great hope.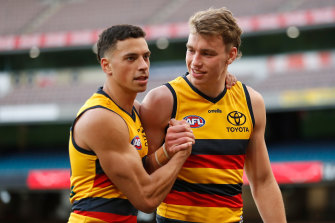 They have played roughly 10 first-, second- and third-year players every week all year and many have delivered. Harry Schoenberg has been outstanding in the midfield, Jordon Butts was excellent as a key back along with fellow rookie Nick Murray. Will Hamill and Lachlan Sholl had very good moments at half-back/wing but need a good pre-season in the gym. Riley Thilthorpe showed why he was No. 2 in last year's draft, Sam Berry settled into an unfamiliar position as a half-forward and Chayce Jones, who had a slow start, was great on some of the best small forwards. High selections last year Brayden Cook and Luke Pedlar showed enough at the end of the year.
What needs to happen during the off-season?
Lynch and Talia have been delisted and will find a home somewhere else but for no return. David Mackay has retired after great service. I would trade Matt Crouch*, as they need to play younger midfielders next year and are still two years from challenging for the eight. They really have no one else to trade, as you need to keep some senior players and I wouldn't be bringing anyone in unless they are cheap from a trade point of view. Fischer McAsey, a key back and high draft selection, in his second year, might attract some interest after an indifferent season but with Talia gone they will need him.
*Note: since this article was published, Matt Crouch has re-signed with the Crows for the next two years.
How should they approach the November draft? (Picks 4, 23, 37, 59, 63)
The Crows have pick four and would love home-grown product and standout Jason Horne-Francis. They would already be planning what they could offer North to swap picks one and four. He is such a good prospect that they are going to have to give up plenty to get this done, and next year's first round will be involved, but even then it's unlikely. North would love someone such as Jones, but that is a big price to pay. There's much to like about this rebuild and, like the Roos, they should hold their nerve, bank money in the salary cap and have a decent crack at free agency and trades in 2022 and 2023 when these very good young players have played 50-odd games and are ready to go.
16th. GOLD COAST
Was the season a success?
(14th in 2020) 7 wins, 15 losses in 2021
The Suns' list is 18th out of the AFL clubs for experience and 16th for age, so did we really expect them to be challenging for the eight? No team of that profile has been close. In addition, they lost captain and elite ruckman Jarrod Witts, back-up ruckman Zac Smith, key back Rory Thompson and small back Connor Buderick for large chunks of the season, as well as experienced forward Sam Day, No.1 pick Matt Rowell and tough inside mids Hugh Greenwood and Lachie Weller. It's no surprise that they had an up-and-down year and relied on their gun young players to get through. Touk Miller had an All-Australian year, while Ben King, Will Powell, Josh Corbett, Noah Anderson, Charlie Ballard, Brayden Fiorini, Jeremy Sharp and Jack Lukosius made progress. Izak Rankine was the big disappointment, while Rowell needs a good pre-season and confidence in his body. The main improvement will come from having all their injured players back, and they can challenge for the eight.
What needs to happen during the off-season?
The Suns have pick three in the draft and that is highly valuable even though the draft is messy this year, unless we can have some representative games. It would take a big name who wishes to go to the Gold Coast to trade that pick out. The only two players with currency in the trade market are Will Brodie – he'll definitely be traded, but they will get nowhere near the return on the No.9 selection they took him with in 2016 – and I would throw in Day (second round) and see what he attracts. He is a versatile, athletic swingman who has had many injuries, and a change in environment might benefit all parties. They should go to the draft again and pick off a free agent here or there. I would definitely go after delisted Crow Daniel Talia, as he will be cheap and extremely valuable to them, allowing Charlie Ballard to free-wheel in defence. That one is a no-brainer.
How should they approach the November draft? (Picks 3, 19, 22, 43, 55, 58, 66)
Outside the two father-son selections and Jason Horne-Francis, the draft is wide open. The Suns should take Finn Callaghan, a left-footed midfielder with a great work ethic and pace. It's important for Gold Coast to keep all their young players and build a great culture with great people. They cannot have young players wanting to leave, and there are a few out of contract at the end of 2022, so next year is a super important one in the history of the club. It could make or break them and considering the reported $250 million dollars invested over the years, the AFL and all the clubs need this to succeed.
17th. COLLINGWOOD
Was the season a success?
(6th in 2020) 6 wins, 16 losses in 2021.
Frankly, no. An uncompetitive final against Geelong after an amazing win against West Coast in 2020 rolled on to a trade period that will be remembered as the worst ever by any club. A bloated salary cap led to a firesale to shed roughly $2 million from the cap and send Adam Treloar, Tom Phillips and Jaidyn Stephenson to new clubs. The good news was that they were able to offload their first-round pick in 2021 for two picks, which brought in Caleb Poulter and Liam McMahon – both very good players – on top of tall midfielder Reef McInnes, their next generation academy recruit. The downside is that pick is now No.2 and it belongs to GWS.
After the mid-season departure of coach Nathan Buckley, the game plan became more attacking under Robert Harvey, and the young players acquitted themselves well. There's much to like about Trent Bianco, Finlay Macrae, Trey Ruscoe, Jack Ginnivan, Beau McCreery and Oliver Henry, and we saw improvement in Isaac Quaynor, Nathan Murphy and Max Lynch.
Loading
What needs to happen during the off-season?
My information is the salary cap is still tight, which is unbelievable for a second-bottom team, so there will be no trading or free agency in 2021 and it's back to the draft. The huge bonus is they have the best player in the draft under the father/son rule in Nick Daicos. If he is nominated No.1 by North Melbourne, Collingwood will need to find 2400 points, and at present they only have around 1700. They would need to perform some fancy trading out of players, or trade out picks in 2022, to have enough. You can go into deficit in 2022 up to 700 points, which Collingwood won't want to do. But the Pies expect Daicos to be bid on between pick two and four, which would mean there would either be no points deficit or a smaller one.
Players they could trade out with some currency are Mason Cox (second round at best), Max Lynch (ruckman who had a good year), Brayden Sier (third round) and Tom Wilson (third round). They should want to leave anyway for more opportunities.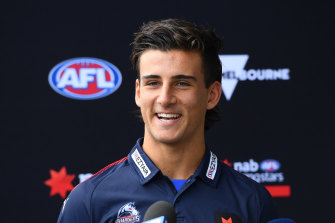 How should they approach the November draft? (Picks 33, 39, 41, 45)
Next year should bring a better balanced salary cap, although they have to re-sign Darcy Moore and Jordan De Goey and they won't be cheap. They have a great bunch of kids, some of whom haven't played yet. With Moore and Jeremy Howe slotting back into defence, Tyler Brown in the midfield and an adventurous new coach who can bring the excitement back, they can recover quickly.
18th. NORTH MELBOURNE
Was the season a success?
(17th in 2020) 4 wins, 17 losses, 1 draw in 2021.
North Melbourne were the best-performed wooden spoon team we have seen. They struggled early, partly because the appointment of new coach David Noble came late, so they had trouble bedding down the game plan. An excellent second half of the year coincided with Ben Cunnington playing his first game in round three and taking a few weeks to get up to speed. Their defence held up and they have found a gun key back in Ben McKay. Kayne Turner was great as a small defender, Jack Ziebell roamed half-back and Aaron Hall had a new lease on life running the ball. Against the odds, Nick Larkey was super as a key forward and he'll receive help from mid-season pick-up Jacob Edwards next year. I love the new players from last year's draft in Charlie Lazzaro, Will Phillips and Tom Powell. Phoenix Spicer had to wait until the final round for his debut, but he will light it up in 2022.
What needs to happen during the off-season?
The Roos started their rebuild at the end of last year with high selections in the draft and prudent trades. Free agent Aidan Corr will be excellent and Jaidyn Stephenson had a good year. Though Stephenson has broken his hip doing stupid stuff, I expect him to recover well. They need to repeat the dose this off-season. It will be two to three before they seriously challenge, so they have to hold their nerve. I would put Jared Polec, Trent Dumont, Taylor Garner, Shaun Atley, Dom Tyson, Jed Anderson and Connor Menadue on the trade table*. They are good players but not in North's best 22 next year and might have currency elsewhere. They need to play their kids in front of these players. They probably need to keep Robbie Tarrant as they are light on for key backs. The player I would really test the market with is Cunnington. His health is the priority after he was diagnosed with testicular cancer, but it was reportedly found early. I played with four players with the same issue and they are all in very good health many years on. He definitely has currency; his best is great, but importantly he is likely to be retired when North are challenging. If they could get a favourable deal, this is a trade I would entertain. I think it is a win/win – he might get a chance to play in a premiership team, while North would go to the draft again.
How should they approach the November draft? (Picks 1, 20, 38, 70)
North have first selection in the draft and it is extremely valuable. The top two selections are likely to be Nick Daicos and Sam Darcy, both father/son selections. The likely next pick is Jason Horne-Francis from South Australia, who has played senior football for two years in the SANFL. At the moment he is clearly in front of pick four. He will play straight up, barring injury. North should take all their selections, maybe bring in a free agent who is cheap, and prepay their highest-paid players so they have a treasure chest to attack free agency next year.
*Note: since this article was published, Taylor Garner, Dom Tyson, Will Walker and Connor Menadue have been delisted by North Melbourne.
Matt Rendell is a former Collingwood and Adelaide recruiter and assistant coach at multiple AFL clubs.
Keep up to date with the best AFL coverage in the country. Sign up for the Real Footy newsletter.