A department spokesman later said there were 143,878 confirmed first dose bookings in the system across the next 30 days and 222,941 for second doses. He would not be drawn on the number of daily registrations recorded in the past week.
Averaged over that period, the booking figure equates to 12,227 each day. The 179,097 doses administered by the state over the 10 days to Sunday come to a daily average of 17,909.
"Each week as our supply increases, we're releasing more vaccination appointment invitations to those who have registered, as spots become available," the spokesman said.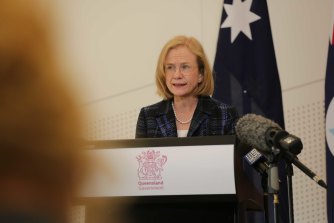 Chief Health Officer Jeannette Young also raised concerns the capacity of 341 GP clinics across the state – set to grow in coming weeks – to distribute the Pfizer vaccine was being under utilised, urging people to find one with doses available.
"So could people please come forward because GPs are not using the full amount that they're been allocated by the Commonwealth," Dr Young said, as the Commonwealth rollout ramps up and additional Pfizer doses arrive from the United Kingdom and Singapore.
"By mid-October GPs across Queensland will have 340,000 doses of Pfizer."
As of Sunday, the decentralised state's full-vaccination rate was 34.75 per cent of the population aged 16 and older, with a first-dose rate of 53.3 per cent. Only Western Australia's double-dose rate is lower.
The most recent regional breakdown of Queensland's rollout by statistical area, to August 29, shows some of the lowest protected areas are lagging by up to half the rate of leading regions, with the state average elevated by Brisbane's north, west and inner city, along with the Sunshine Coast.
Brisbane West, the region at the centre of the state's recent school-based outbreak, had about 40.7 per cent of its eligible population fully vaccinated and 62.1 per cent having received at least one dose, while the Mackay, Isaac and Whitsunday region has managed just over 20 per cent and 39.7 per cent, respectively.
Outside the Mackay area, Logan and Beaudesert (23.8 per cent fully vaccinated and 40 per cent with at least one dose), Central Queensland (25.5 per cent and 42 per cent) and Ipswich (26.7 per cent and 44.1 per cent) also remain well the state average.
Loading
Ms Palaszczuk said authorities were watching progress closely and prioritising those where less than half the eligible population had received at least one dose.
"We've addressed those issues by making sure that we are establishing vaccination hubs in those areas and we are making it easy for some communities to do walk-ins," she said of the Logan, Caboolture and Ipswich.
Dr Young said walk-ins, of which the Logan hub accepted 885 on Sunday, would also be opened up at more hubs as bookings were "used up".
Drive-in hubs, being used in Victoria, were not yet needed to be considered as the virus was not "ripping through our community", Ms Palaszczuk said.
AstraZeneca, not subject to the same supply constraints as Pfizer and which the government has been urged to consider using in state-run hubs like in NSW and Victoria, could be sourced at GPs and pharmacies.
"There are a lot of options open to Queenslanders and now is the time to get vaccinated," Ms Palaszczuk said.
The Morning Edition newsletter is your guide to the day's most important and interesting stories, analysis and insights. Sign up here.