Climate scientist at The Australian National University Will Steffen said the 2050 aim was 'far too late' and that it's necessary to hit net zero by 2040 at the very latest.
"Emphasising net zero by 2050 is kicking the can down the road, it's a form of soft denial and pushes down the urgency and severity of the issue," he said.
Chief executive of ClimateWorks Australia Anna Skabek said she welcomed all support for achieving net zero emissions as soon as possible. But the director of Climate and Environment at the Australasian Centre for Corporate Responsibility Daniel Gocher said the shift was 'too little, too late' and News Corp had not committed to censoring outspoken climate sceptics.
"The thing that's most telling is that News Corp has always maintained that editors make their own decisions. This new editorial decree would suggest that's not the case, and cements everything we've always suspected which is that they do interfere," he said.
Former News Corp boss John Hartigan said this was not the first time the company had taken a stance on carbon emissions, referring to the company's own push to become carbon-neutral in 2011, and that it was 'good to see they're still aiming high.'
Another former News Corp executive who would only speak on the condition of anonymity suspected the decision was taken to remain relevant to metro and younger audience, saying "I doubt they will censor the extremities in their opinion writers, where deranged views will reign uninterrupted. It has little to do with anything other than spin and camouflage."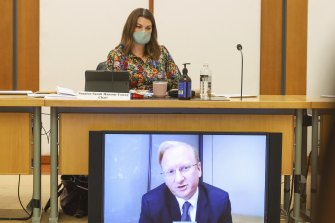 Whittaker and executives from Google, which owns YouTube, gave evidence at the Senate's media diversity inquiry on Monday, which was scrutinising Sky News' seven-day ban from YouTube earlier this year for breaching the tech giant's misinformation policies.
YouTube deleted a total of 23 videos from Sky's channel on the platform for containing a range of alleged misinformation. Mr Whittaker said Sky had taken down at least 18 videos of its own accord because the tech giant's policies were "incapable of compliance". But he rejected suggestions by Greens Senator Sarah Hanson-Young the network had broadcast COVID-related lies.
The deleted videos include some promoting the use of drugs hydroxychloroquine and ivermectin as unproven COVID-19 treatments. High-profile broadcaster Alan Jones has repeatedly claimed COVID-19 is "not a pandemic" in since-deleted videos, including one from May which triggered the YouTube ban.
Loading
Mr Whittaker said the network's presenters were justified in broadcasting views on hydroxychloroquine and ivermectin in 2020, saying there were worldwide studies into the drugs at the time. The deleted videos included ones titled: "Ivermectin caused amazing improvement" and another titled "There is no good reason to ban two potential COVID cures".
"At the time of some of these videos in 2020 that have been removed by YouTube, there were 50 studies done worldwide on hydroxychloroquine and the potential efficacy for COVID," Mr Whittaker said.
"Some of these videos, Senator, were 12 minutes long. You've got to put them in the full context of everything that was said."
Google Australia's director of public policy Lucinda Longcroft said the majority of the 23 deleted videos were removed for breaching its COVID-19 misinformation policies, and two videos were deleted for violating its election integrity policy. She said Sky News had not appealed the deletion of the videos.
Loading
"They have communicated to us private concerns about the process but that they have not refuted the violation of our COVID-19 misinformation policies," Ms Longcroft told the inquiry.
She said YouTube began removing misinformation about COVID-19 in March 2020 and expanded its policies to cover misinformation relating to vaccines in October. Sky News was first issued with a warning about its content in December, and then received a strike that prompted a seven-day ban in July.
Mr Whittaker said Sky was suspended before it had the opportunity to appeal the ban and described YouTube's misinformation policies as so "opaque" that it began to self-censor and remove videos to avoid a potential permanent ban.
"On July 29, we were informed that we were subject to a strike, and we were given less than 30 minutes notice to be told that we could not upload any videos. So there's no appeal at that time because you are already suspended," Mr Whittaker said.
"Sky News took the proactive approach of removing a batch of videos all published during 2020 from online platforms to ensure ongoing compliance with YouTube's arbitrary editorial guidelines."
In one since-deleted clip from August 2020, co-hosts of the Outsiders program Rohan Dean, Rita Panahi, and James Morrow, who has since been appointed The Daily Telegraph's federal political editor, gave viewers "the Outsiders guide to hydroxychloroquine" in which they talk up the effectiveness of the unproven treatment.
Dean, in a separate clip from September 2020, calls for Chief Medical Officer Paul Kelly to resign over his stance that drug was not a proven treatment for COVID-19, saying "the jury is in and the jury says categorically hydroxychloroquine saves lives and Australians must be given access to this drug".
Former Prime Minister Kevin Rudd, a vocal critic of News Corp, returned for his second appearance at the inquiry and said Google had been left to "blow the whistle" because the media regulator had failed to act.
"What was the Australian Communications and Media Authority doing to earn their salary to allow this to occur? They have a responsibility here under the law because this material is being rebroadcast on free to air television," Mr Rudd said.
Loading
ACMA chairwoman Nerida O'Loughlin said the regulator had received 37 complaints this year about Sky News' COVID content, 24 of which were referred to the network for the consideration.
"The actions of YouTube reflect that they have an algorithm, which monitors content [and] which looks into content. We do not do that," Ms O'Loughlin said.
She said ACMA operated under a co-regulatory model that gives broadcasters the initial responsibility for addressing complaints, and it would be a matter for Parliament to change that approach if it believed the powers were unsatisfactory.