Sydneysiders should expect a warm and sunny week with temperatures forecast to rise into the high 20s as three-metre waves batter the NSW coast.
Bureau of Meteorology meteorologist Gabrielle Woodhouse said there was not much rainfall on the cards and the city would have a slow increase in maximum temperatures over the coming days.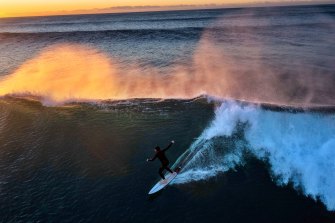 "Saturday will be the warmest, broadly anywhere from 26 to 29 degrees across the Sydney Basin during the day," she said.
"Then we're going to see a change that's going to move through on the weekend."
A fairly slow-moving high pressure system and generally clear skies warming up the air will draw hotter temperatures to the state's coastal parts before a cool change comes through.
Maximum temperatures are expected to dip back under 20 degrees in Sydney by next Monday.
"It is that time of year when we see those cold fronts come through, and we know ahead of those cold fronts, it does warm up," Ms Woodhouse said.
She said the warmer weather "doesn't say anything exactly" about the spring ahead, with a wetter than average season to come, based on the climate outlook.
The drier weather should help already soggy catchments in inland NSW where some flood warnings are in place.