That new information included a victim statement that Father Bongiorno, a priest at St Mary's Church in Thornbury, had abused Ms James' youngest son Adam and that she was due to confront the parish around the time she was killed.
A host of errors has also since been discovered in the police investigation, including lost and misplaced crime scene evidence and DNA from another murder scene mistakenly being used to clear suspects in Ms James' death shortly before they each died, the inquest heard.
On Monday, during the opening of a three-week inquest, the coroner heard one of those previously missing items – a blood-soaked bed quilt – had recently been found but no DNA could be obtained.
Other items including Ms James' green jumper remain missing.
Ms Lacy said the inquest, before Deputy State Coroner Caitlin English, would also focus on the 1980s investigation and hear from 37 witnesses including detectives from that investigation, forensics experts, a suspect and civilian witnesses from the day of Ms James' death.
It will also examine the identity sketches police released over the years, which were dubbed "Hutton Street man", "High Street man", "survey man", "5am man", "9am man" and "shop man" and the calls to police about these.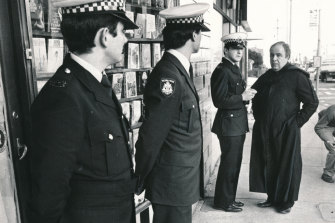 "There has been a daunting passage of time in which recollections fade and information is lost. It might be that your honour is unable to reach conclusions about all of the questions that beg for answers in relation to this wretched crime," Ms Lacy said.
"Along the way, it seems appropriate to contemplate the social and cultural factors that might have influenced the investigation back in 1980. We have witnessed over the last 40 years a changing social conscience about violence towards women.
"Just in the last 12 months, community awareness of issues around violence against women has expanded into more vocal public outrage.
Loading
"Maria James is one of far too many women who are killed in their homes at the hands of another."
On Monday, the inquest also heard evidence from the deputy director of the Victorian Institute of Forensic Medicine, David Ranson, who reviewed Ms James' autopsy records.
He said it was likely Ms James had been stabbed with one weapon, similar to a kitchen knife, over a prolonged period and moved about the house during the attack.
When asked about the "clusters" of 68 stab wounds about her body and whether some may be ritualistic, particularly those on her breasts, he said they "may well have some significance".
"I would be thinking this is most likely to be a man that caused these injuries," Dr Ranson said.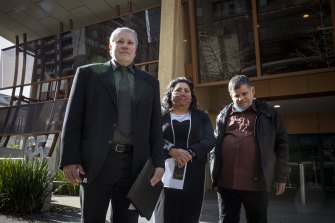 Outside court, Mark James, the eldest of Ms James' two sons, said they were hopeful the inquest could help solve the many unanswered questions that surround their mother's death.
"Adam and I are hoping that, after all this time, the coroner will get to the bottom of exactly who was involved and why," Mr James said.
The inquest is due to run for three weeks.
The Morning Edition newsletter is our guide to the day's most important and interesting stories, analysis and insights. Sign up here.