Afterpay says cryptocurrencies could slash retailers' payment costs by wiping out various fees charged by banks and card schemes, as it urges the federal government to develop a regulatory framework for digital assets.
In a submission to a Senate inquiry investigating the regulation of cryptocurrencies, Afterpay says the underlying technology, known as blockchain, could remove a range of costs baked into the debit and credit card system.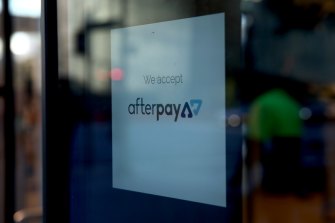 Currently, card payments come with costs including "interchange" fees – which are paid between banks – alongside fees paid to the schemes such as Visa or Mastercard, and other processing costs. Interchange fees are also a substantial cost for Afterpay, which relies on debit cards for its buy now, pay later (BNPL) product.
Afterpay said a payments chain built on cryptocurrencies would potentially deliver big savings to merchants by removing card networks, banks and infrastructure providers from the picture.
"Merchants stand to benefit considerably from the cryptocurrency model, as card network fees are entirely removed from the equation and the customer/payer bears the transaction costs," Afterpay said in a submission to the Senate inquiry into Australia as a technology and financial centre.
Instead, it said under a cryptocurrency model the customer would bear the transaction costs, which would be a single fee for validating the payment on a digital ledger, known as the blockchain.
Despite the potential for lower payment costs from cryptocurrencies highlighted by Afterpay, bitcoin itself is known for having very high transaction costs and using enormous amounts of electricity.
Afterpay is one of several fintech and other financial firms that will appear before the committee, which is being chaired by NSW Liberal Senator Andrew Bragg, on Wednesday.
The fintech also entered the discussion on "stablecoins," which are cryptocurrencies that are pegged to underlying assets such as fiat currencies, in an attempt to cut their volatility.