Loading
Polls indicate many Salvadorans are wary of the volatility of the cryptocurrency, which can shed hundreds of dollars in value in a day. That view is shared by many economists worried at how it will affect economic stability.
However, others have embraced it as a way ordinary people in a poor country can invest in financial markets.
Ahead of the launch, El Salvador bought 400 bitcoins worth around $US20 million ($27 million), Bukele said, helping drive the price of the currency above $US52,000 for the first time since May. Hours later, however, bitcoin had weakened and last traded down 8.84 per cent at $US47,327.32.
Carlos Garcia, who went to a booth giving out advice on the new currency at a shopping mall on Tuesday to learn about how transactions would work, said he was excited about the opportunities bitcoin could provide.
Loading
"El Salvador is taking a great step forward today," he said.
However, the poorest may struggle to access the technology needed to make bitcoin work in El Salvador, where nearly half the population has no internet access and many more only have sporadic connectivity.
"I'm going to continue suffering with or without bitcoin," said sweets seller Jose Herrera, who said he had trouble accessing a mobile phone.
Analysts fear that the adoption of bitcoin, whose transaction records are distributed across the internet, beyond the reach of national jurisdictions, could fuel money laundering.
After the bitcoin law was approved, the ratings agency Moody's downgraded El Salvador's creditworthiness, while its dollar-denominated bonds have also come under pressure.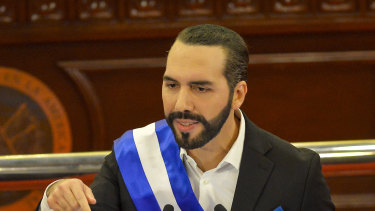 The World Bank reiterated on Tuesday that it could not help El Salvador in its process of adopting bitcoin as legal tender "given environmental and transparency shortcomings," a World Bank spokesperson told Reuters.
"While the government did approach us for assistance on bitcoin, this is not something the World Bank can support given the environmental and transparency shortcomings," the spokesperson said in a statement.
Reuters