Among the gaps identified was the failure of the Land and Housing Corporation, which holds $50 billion of social housing assets to conduct a review. Projections for "significant increases in the number of heatwaves" mean it will get harder to limit the risk of heatstroke and other poor health outcomes for residents, the report found.
The problems are not just confined to the public sector either. The Building Sustainability Index (BASIX), a sustainable planning measure to drive cuts in residential water and energy use, is under review, but Planning is not considering the potential impact of climate change to these requirements, the Audit Office said.
"[H]omes in NSW are currently being built for the present, but not for a potential future climate," it said.
Even in the eastern suburbs of Sydney, energy cooling requirements are set to rise 70 per cent by 2030 compared with 2020, and 300 per cent by 2070, the Audit Office said, according to a report commissioned by one council in January.
Labor's climate spokesman Jihad Dib said the government "might promise a big game on climate change, but this report clearly shows they do not have the ability or desire to meet their own promises".
"The people of NSW should be concerned that the Strategic Plan for the Climate Change Fund has never been finalised," he said.
Independent NSW MP Justin Field said "a failure to plan is a plan to fail, and it is clear that the NSW government's plan to mitigate and adapt to climate change is inadequate".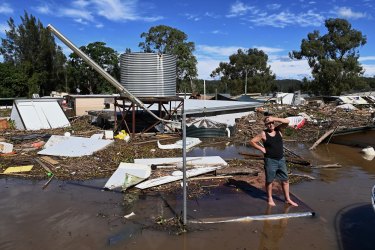 "We see ongoing resistance to climate planning and adaptation strategies within the Coalition, particularly when it comes to water policy, land-use planning and development controls," he said. "These short-term political considerations are leaving NSW communities seriously exposed to climate shocks in the future. This report serves as just the latest warning that we're not doing enough."
Local government was also getting little assistance from Planning, the Audit Office said, noting that the department's 2018 Guide to preparing Local Environmental Plans (LEPs) for councils does not mention climate change.
Loading
"Of the 143 council LEPs we examined in March 2020, all make a reference to climate change, but this is only in relation to flood planning, reflecting guidance from the Department's 2005 Floodplain Development Manual," the Audit Office said.
Another gap is in Crown Lands, an agency that oversees about 42 per cent of NSW's land area including coasts and infrastructure, but had failed to develop adaptation plans.
"Crown lands will be increasingly exposed to climate risks, including risks associated with sea level rises," the report said, noting CSIRO data showing sea levels already risen by about 25 centimetres since 1880.
The Morning Edition newsletter is our guide to the day's most important and interesting stories, analysis and insights. Sign up here.