"The critical thing here is to save lives and protect lives," Mr Hunt said. "It would be almost unimaginable not to be providing the support … to those most in need at their time of greatest need."
"As we have had outbreaks, we have prioritised those areas to save lives. In particular, we started with prioritising Victoria when there was a Victorian outbreak."
Mr Hunt said the country had an "abundance of doses" of the Pfizer vaccine coming in, thanks to swap deals with Singapore and the UK totalling 4.5 million doses.
Loading
Prime Minister Scott Morrison said extra vaccines had been provided to Victoria and Queensland as well as NSW, dismissing criticism of the vaccine distribution to the states.
He said he "doesn't share the view" of Mr Andrews, adding that Victoria had had doses brought forward as well as NSW, while other states had not.
The political stoush comes as Victoria recorded 246 new local COVID-19 cases for the second day in a row on Tuesday.
Ninety of the new cases have been linked to existing outbreaks and patients, but it is not yet known how many cases were in isolation for their entire infectious period.
The remaining 156 cases are under investigation.
Health authorities said 43,858 test results were received and another 32,300 people received a dose of a COVID-19 vaccine at state-run clinics.
There are now 1786 active cases in the state.
Teen on ventilator in Victorian hospital
Loading
Mr Andrews also revealed that a 17-year-old in need of a ventilator was among the 110 Victorians in hospital.
Thirty people are in intensive care and 14 are on a ventilator.
"The age range of those ventilated patients is 17 years of age through to 76 years of age and there are people in their 40s, 50s, 60s [and] in between," Mr Andrews said at Victoria's daily COVID-19 press conference.
"Anyone can fall ill to this, anyone can fall seriously ill to this virus. That's why we all have to work so hard."
Mr Andrews reinforced the message that Victorians should not be waiting for a particular brand of vaccine, with 11,400 AstraZeneca appointments available this week.
The state will expand its vaccine program with an additional 40,000 appointments weekly at state hubs and a 50 per cent increase in capacity at some sites.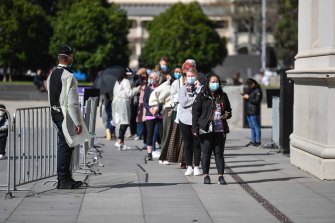 Some 61.4 per cent of Victorians have now received at least one dose of a COVID-19 vaccine and the state is expected to beat its target of vaccinating 1 million people over a five-week period.
"We are ahead of schedule, so it looks like we will beat that," Mr Andrews said.
There were 59,000 bookings made yesterday, including by senior students.
Case of COVID-19 at a school in Melbourne's south-east
Authorities have detected a case of COVID-19 at Cheltenham Primary School.
Principal Bronwyn Morgan confirmed the case in a letter to parents on Monday, and said families and staff would have to stay home and limit their movements until advised otherwise.
The Health Department also identified a number of new exposure sites on Tuesday, including a legal office in Melbourne's CBD and a childcare centre in Truganina that were listed as tier-1 venues.
Other tier-1 additions included a gym in Malvern and a medical centre in Armadale.
Victoria 'plodding' on vaccination rates: Matthew Guy
Newly appointed Victorian Opposition Leader Matthew Guy said the state was "plodding along" when it came to COVID-19 vaccination rates and that it deserved its fair share of the national vaccination stock based on a per-capita share.
He urged the Andrews government to spend more money convincing people to get the vaccine so Victoria could reach desired vaccine targets.
With Angus Livingston, Annika Smethurst and Michaela Whitbourn