He never returned to the life and career that he had forged in the UK.
Matthew spoke in front of a photograph of his parents attached to the wall behind him and a vase containing sunflowers below the image on a shelf.
The presiding judge, Hendrik Steenhuis, directly acknowledged the sunflowers and the "special meaning" that they carried for relatives of MH17 victims.
Matthew described his parents, who were from Queensland, as "hardworking Australians" and read out a letter that his mother penned in "beautiful handwriting" to his father when they had begun courting, some 62 years ago.
International investigators have concluded that the launcher used to fire the missile that shot down flight MH17 belonged to Russia's 53rd Anti-Aircraft Missile Brigade.
Three Russians and one Ukrainian are on trial for murder. Russia has refused to extradite its citizens and Moscow denies responsibility. One of the accused has a lawyer representing him but the others are being tried in absentia.
The Horders and other relatives of the victims who appeared on Tuesday said their loved ones had been murdered and Russia's lies made their indescribable grief worse.
"Very quickly it became evident that this was no accident, rather an act of murder on a grand scale," Matthew Horder said.
Matthew said when the crash happened he developed a headache that "lasted for weeks" and returned whenever the flight was mentioned.
"I will never forgive Russia … the crime they have committed and the lies they continue to spread some seven years later and counting."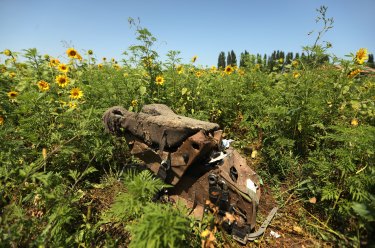 His brother David said: "Seven years later I realised we were all given a life sentence when this plane was shot down."
"It's now time for all guilty parties to tell the truth, to start their sentence, so we can start to grieve and move on with our lives.
"I want the truth told, my parents deserve that, and we deserve to start living in this world again without this rage and anger simmering.
"Life will never be the same, but it will certainly be a relief to have some peace with justice being served … for my Mum and Dad and every innocent soul on MH17 that were murdered," David said.
The trial began in March 2020 and judges were expected to issue a judgment in late 2022.
Get a note direct from our foreign correspondents on what's making headlines around the world. Sign up for the weekly What in the World newsletter here.