Dr Raadik even saw one lying atop a pile of cooked yabbies at the Ringwood Fish Market one Christmas. But, alas, he needed to pay cash and by the time he had run back from the ATM, the mystery mega-yabby had been sold.
Eventually, he teamed up with Rob McCormack, a NSW freshwater crayfish researcher with the private firm Australian Aquatic Biological, who set about searching the Millewa Forest, on the Murray in southern NSW.
With the guidance of traditional owners, Mr McCormack dug down more than 1.5 metres through dry clay pans and found the big-clawed, chunky yabbies living in burrows.
Dr Raadik's suspicions were right: this was a new species of freshwater crayfish, known as the swamp yabby, Cherax latimanus. It's the first time in 80 years that a new yabby species in the Murray-Darling Basin system has been formally described, making the swamp yabby only the third species known to naturally occur in the basin.
The swamp yabby is found in Victoria's Goulburn, Broken and Ovens river catchments, and as far north as Deniliquin in NSW. It is not believed to be endangered.
Unlike the common yabby, the swamp yabby is not found in streams or billabongs, but spends most of its time in extensive burrows near roadside drains, depressions, swamps and cleared areas of pasture. It is occasionally found in streams, but only during flooding when burrow systems are inundated.
It is a truly cryptic critter – females stay in their deep burrows most of their lives and males come out only when it rains.
Researchers do not know what they eat, though suspect it might be roots.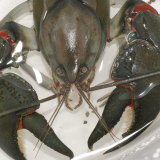 They hope that news of the new species will enable land-care groups and water catchment management authorities to become aware of the creatures, and take photographs if they are spotted.
The swamp yabby shows how much we still have to learn about the natural world, says Dr Raadik.
"What lurks beneath? Not many people even knew this animal was living deep in the ground, underneath them all this time."
The head of the Victorian Department of Environment, Land, Water and Planning's biodiversity division, James Todd, said the discovery demonstrated the skill of scientists at the department.
"It highlights how much work can go into locating and then formally describing a new species – especially one that's found deep underground."
The Morning Edition newsletter is our guide to the day's most important and interesting stories, analysis and insights. Sign up here.