That's where we'll leave our live coverage of the day's events, thank you for joining us. If you are joining us now, here's what you need to know: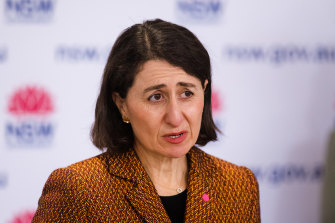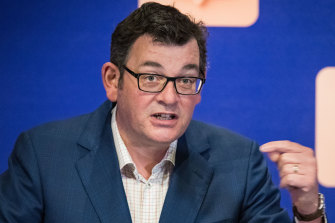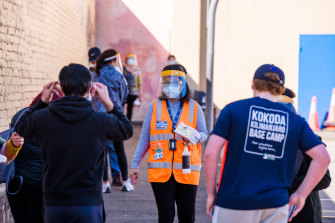 Another half a million Pfizer vaccines have left the UK bound for Australia as part of the vaccine swap agreed by prime ministers Scott Morrison and Boris Johnson.
The doses left on a Qantas flight from Heathrow on Wednesday evening. It will mean nearly one million doses will have arrived in Australia in less than one week since the deal was announced last Friday. More flights are planned for Friday and Sunday.
You can read about how the deal was struck here.
Victorian health authorities have identified more than 40 new COVID-19 exposure sites, including multiple Melbourne apartment complexes and childcare centres in the city's west and north.
Some of the new sites are tier-1 or close contact:
Yara Childcare Centre, Truganina – Thursday, September 2 between 12pm and 2.30pm and Friday, September 3 between 8.30am and 5pm
Pearl Street Childcare Centre, Glenroy – Wednesday, September 1 between 8.15am and 5.20pm and Friday, September 3 between 8.15am and 5.20pm
VicRoads, Sunshine – Thursday, September 2 between 8am and 5pm
Fruithaul, Cardinia – Saturday, September 4 between 5.15am and 6.05pm, and Sunday, September 5 between 5.15am and 4.30pm
Mernda Cafe Convenience, Mernda – Tuesday, August 31 between 3pm and 7.30pm, and Wednesday, September 1 between 3.30pm and 8pm
Anyone who has attended those sites during the specified timeframes has to immediately get tested for COVID-19 and quarantine for 14 days from the exposure, regardless of whether they receive a negative test result.
The remainder of the new sites are tier-2 or casual contact sites. They include apartment complexes at Docklands in Melbourne's inner-city, and at Preston, Epping, and Richmond in Melbourne's north, a Dan Murphy's in Mildura, Royal Dental Hospital in Carlton for five days from Saturday, August 28 and tram route 72 at different times over two days.
Also among the tier-2 sites is KFC at Fawkner in Melbourne's north, where authorities warned some people would be considered close contacts. The Department of Health would contact those people.
A full list of Victorian exposure sites can be found here.
A federal ban on Australians leaving the country will be dropped as soon as November under plans to end an extraordinary travel restriction and embrace a "vaccine passport" so travellers can prove they are allowed to cross international borders.
The plan could be announced within days after federal cabinet discussed the changes on Wednesday night in another step toward a travel pass linked to the Australian Immunisation Record that people can download to their phones after being fully vaccinated.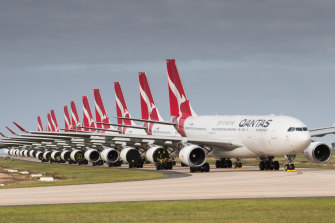 While Australians have been forced to seek permission from the Department of Home Affairs to leave the country during the pandemic, federal ministers want to dismantle the restriction as soon as the vaccination rate reaches 80 per cent of people aged 16 and over.
Read the full story here.
More than 26,000 recently retired doctors and nurses will be able to fill in for healthcare workers furloughed due to COVID-19 in a bid to keep the health system operating as the country learns to live with the virus.
The Australian Health Practitioner Regulation Agency (Ahpra) responded to requests from state and territory governments for more assistance by altering the conditions on the pandemic response sub-register today.
The sub-register was created last April to allow recently retired medical practitioners, including midwives, pharmacists and Aboriginal and Torres Strait Islander health practitioners, to register their interest in joining a surge workforce to help with the vaccine rollout.
Ahpra's chief executive Martin Fletcher said the sub-register had been updated to reflect the changing COVID-19 situation.
"We are responding to requests from governments for more registered health practitioners while also ensuring that patient safety remains an important focus," he said.
"We have expanded their temporary registration to allow for 'practice for the COVID-19 response', rather than being limited to the 'COVID-19 vaccination rollout' as has been the case to date."
Those on the sub-register can fill gaps in the workforce where staff have been stood down as close contacts of COVID-19 cases, or fill clinical or non-clinical roles directly related to the pandemic response including assisting with the vaccination rollout.
NSW Health supported the decision to expand the register. The state's health ministry has also recently moved to allow previously registered health professionals, including nurses, who had retired or whose registration lapsed between three and 10 years ago to work in vaccination hubs.
Thousands of hospital workers have been taken out of the workforce following COVID-19 exposures in wards, emergency departments and theatres over the course of NSW's outbreak.
On September 1, data from the NSW government's Agency for Clinical Innovation showed 1429 healthcare workers were in isolation, up from 1273 the previous week.
In Victoria, staff at Peninsula Private Hospital and the Alfred are also furloughed.
There are 7641 medical practitioners on the sub-register in NSW, 6458 in Victoria, 5531 in Queensland and 2936 in WA.
Health Minister Greg Hunt did not accept an invitation for a detailed initial meeting with Pfizer's top executives about progress on a coronavirus vaccine, as other countries were already on track to signing deals for millions of doses.
The pharmaceutical company eventually had its first meeting with representatives from Mr Hunt's office two weeks after the United States and United Kingdom had already signed deals for a combined 130 million doses.
Earlier today, we reported documents from June and early July last year released under Freedom of Information laws showed the company was eager to have a high-level meeting "at the earliest opportunity", but received a response from the Department of Health days later offering a meeting with a first assistant secretary instead.
A spokesman for Health Minister Greg Hunt rejected the interpretation that the government was slow to act, saying the Department of Health began working with Pfizer shortly after the pandemic began.
"The Department has been actively engaged with Pfizer since very early in the pandemic," he said. "These discussions have been extensive and cooperative."
You can catch up on the story here.
A judge will decide whether to allow the lawyer of former special forces soldier Ben Roberts-Smith to cross-examine his ex-wife over whether she gave her friend access to his email account.
Mr Roberts-Smith, who is suing The Age, The Sydney Morning Herald and The Canberra Times for defamation over articles that he says wrongly portray him as a murderer and war criminal, is also taking action against his former wife, Emma Roberts, to find out if she gave confidential information to the newspapers' lawyers.
The defamation trial is scheduled to resume in November, depending on COVID-19 lockdowns and state border closures.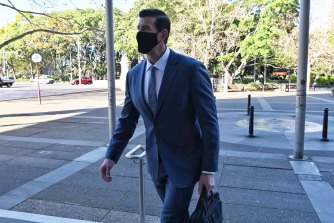 Mr Roberts-Smith's barrister, Arthur Moses, SC, told the Federal Court on Tuesday that telecommunications records indicate an email address used by the former soldier to correspond with his lawyers was accessed by Danielle Scott, a close friend of Ms Roberts, on at least 101 occasions.
Ms Roberts signed an affidavit on August 20 swearing that she did not give Ms Scott access to the account.
"Now regrettably, we say that those passages of that affidavit are a false construct," Mr Moses said.
But Ms Roberts' lawyer, Jason Murakami, said the inference Mr Moses was making was "purely speculative" and there was no evidence that Ms Roberts had given her friend the password.
Read the full story here.
Sydneysiders have queued at pop-up Pfizer COVID-19 vaccination clinics that have opened for residents aged 16 to 59 years in the city's inner west and inner east amid rising case numbers in those areas.
Walk-in clinics have opened at the Peter Forsyth Auditorium at Glebe, Marrickville PCYC and Wests Ashfield.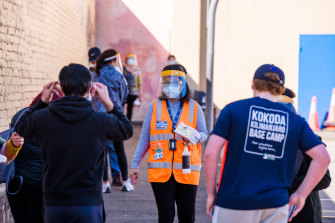 Premier Gladys Berejiklian voiced concern about the slow vaccination uptake in some inner suburbs of Sydney, particularly in Glebe, Waterloo, Redfern and Marrickville, as NSW recorded 1480 new local cases of COVID-19.
Of those cases, 233 were from Sydney local health district, and 119 were from the south-eastern Sydney local health district.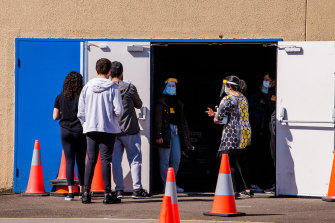 "While parts of western Sydney and south-western Sydney are demonstrating outstanding results, there are other parts of Greater Sydney where we'd like vaccination rates to go up," Ms Berejiklian said on Wednesday.
On Tuesday, the Sydney Local Health District said residents "no longer need to be from a local government area of concern", as it urged people to get vaccinated now.
"Please make a booking now. We have six sites running this week. If you can't make an appointment online, our staff can help you when you arrive."
Victorian health authorities have identified several new COVID-19 exposure sites across the state.
Among them are several new tier-1 or close contact sites, including a neighbourhood learning centre and an auto body repair shop, both in Melbourne's north. The new tier-1 sites are:
Australian Future Cabinets, Thomastown – Wednesday, September 1 between 8am and 4.30pm, Thursday, September 2 between 8am and 10.30am, and Friday, September 3 between 10am and 1.30pm
Malvern Health & Fitness, Malvern – Sunday, September 5 between 9am and 6pm
Carlton Neighbourhood Learning Centre, Carlton North – Thursday, September 2 between 8.24am and 4pm
Bell Collisions, Preston – Friday, September 3 between 6am and 4.30pm
The remainder of the new sites are tier-2 or casual contact sites. They are:
Australia Post, Wyndham Village Shopping Centre, Tarneit – Thursday, September 2 between 2.35pm and 3.45pm
Maternal Child Health Centre, Truganina – Tuesday, August 31 between 8.30am and 4.40pm
Office complex at 8 Exhibition Street, Melbourne – Wednesday, September 1 and Friday, September 3 between 6.20am and 3pm, and Thursday, September 2 between 6am and 3.30pm (the Health Department will contact some tier-1 contacts)
Australian Commercial Maintenance, Campbellfield – from Wednesday, September 1 to Friday, September 3 between 8am and 2.15pm (the Health Department will contact some tier-1 contacts)
Ferguson Plarre Bakehouse Factory, Keilor Park – Friday, September 3 between 7am and 4.30pm and Saturday, September 4 between 7am and 12.30pm (the Health Department will contact some tier-1 contacts)
A full list of Victorian exposure sites can be found here.
Kiwis stuck in NSW will have an opportunity to get back to New Zealand, if they meet the criteria.
New Zealand's Ministry for Business, Innovation and Employment announced on Wednesday a second "red" flight would depart Sydney for Auckland next Wednesday for people who fit the emergency requirements.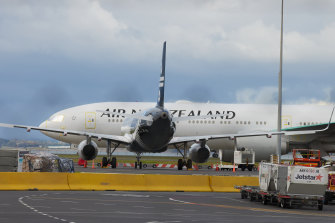 People will have until 3pm AEST on Saturday, September 11, to apply for the flight via the government's Managed Isolation and Quarantine website.
The ministry said everyone who was eligible was encouraged to take up this opportunity to return to New Zealand.
Travellers must not have been at a location of interest in the previous 14 days and must present proof of a negative pre-departure COVID-19 test at check-in taken within 72 hours of departure. They would be required to enter into managed isolation for 14 days on arrival at their own cost.
The first managed flight organised by the government arrived on September 5 with 93 people on board. This additional flight would allow more people in urgent situations to come home, the ministry said.
"With emergency allocations suspended for people in Australia since July, this brings Australia back in line with the rest of the world, where people have continued to have access to emergency allocations," Brigadier Rose King, who is the Joint Head of Managed Isolation and Quarantine, said in a statement.
The emergency criteria applied to New Zealanders who needed access to time-critical medical treatment, who were in a location where there was a serious risk to their safety or where they were unable to legally remain, or those travelling to visit a close relative who was terminally ill or who had died.
The ministry said the flight wasn't open to the general public, and people were advised not to contact airlines directly.
An announcement on the future of quarantine-free travel with Australia is expected later this month.

Stuff