No less than five times did Cleary cause a fumble or find the turf with his aerial assaults, causing all sorts of trouble as Penrith stung South Sydney in the second half.
"I've been playing fullback my whole life, if he kicks bombs – I'm sure he will – I'm ready for the challenge," Taaffe said. "Catching bombs at the end of a session is part of my ritual. I'm not trying to base my game on catching bombs, it's just part of my role.
"I've been playing fullback my whole life, if he kicks bombs – I'm sure he will – I'm ready for the challenge."

Blake Taaffe
"I'm not the size of Latrell and I don't plan on being the size of Latrell. I think I've just got to go about my strengths and [compete] in all of the effort areas. I'm not going to go out there trying to set up 10 tries and try to score 10 tries, I've just got to do my part in the team."
Taaffe is the grandson of Rabbitohs legend Kevin Longbottom, who he joked wouldn't have been proud of his goalkicking display in the final round win over the Dragons. Longbottom was part of South Sydney's famous 1967 grand final-winning side.
The pedigree has always been there for Taaffe, and so has the backing of his teammates who insist he is more than capable of filling Mitchell's sizeable presence at the back.
"This week I don't feel like he needs to be helped," Benji Marshall said.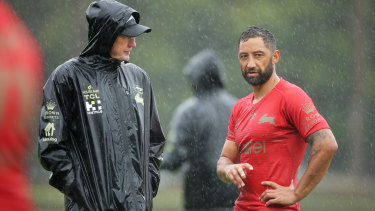 "He's learned a lot throughout the season, obviously being around guys like Cody [Walker] and Latrell. He's got first-graders around to help him out.
"The thing with Blake is he's a really confident kid. We just need him to do his job and everyone else needs to do their job. There's a lot of energy and a lot of support around the ball, and we've got full confidence in the kid."
Loading
Marshall bluntly refuted any suggestions the side had talked about a swap which would involve the veteran starting in the halves and Walker shifting to fullback.
And Walker shot down claims the side couldn't win the title without Mitchell, who is serving a six-game ban for a tackle which left Roosters star Joseph Manu with facial fractures.
"Last year we made it to a prelim without him and guys were writing us off left right and centre," Walker said. "I know we can do it without him.
"A guy like Blake Taaffe has come into the group and we don't expect him to be Latrell Mitchell. He's quite dangerous young Taaffe, he's light on his feet and he's really quick.
"We trust him to do a job there if Wayne picks him there."
Sports news, results and expert commentary. Sign up for our Sport newsletter.