A mathematical division of the total means an average payout of $67,692, but more realistic compensation totals are being determined on a sliding scale.
"That is the next process of what is going on now," Mr Murphy said.
How the 2011 flood affected south-east Queensland
Thirty-three people lost their lives in the 2010-11 floods.
The damage bill was $3.2 billion across about 90 Queensland towns.
In Brisbane more than 20,000 homes were flooded in January 2011.
In Ipswich more than 3000 homes were flooded.
The Brisbane River peaked at 4.46m in the capital, while the Bremer River peaked at 19.4m.
Maurice Blackburn has 28 days to decide whether to appeal, which Mr Murphy described as disappointing.
"I don't know if it is right to say [our lawyers] were surprised," he said.
"They had some concerns about what happened during the hearing itself.
"It will go back to our lawyers. They will have some barristers have a look at the ruling, and then it will take some time to have a look at it."
The original November 2019 hearing was based on four test cases, including the flooded Fairfield Gardens sports store run by the family business Rodriguez and Sons, plus the Fernvale home of flood victim Lyn Lynch.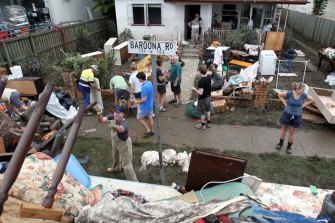 Ms Lynch is still waiting for a compensation payout for her Poole Street home.
"I'm disappointed, and I'm disappointed for a lot of people," she said. "It's just going to be the last straw for some people.
Loading
"I'm OK, I'm on a pension, I can live on that, but there are others who aren't, and they are really relying on this money."
Ms Palaszczuk said the compensation tussle was dragging on.
"The state government's decision was not to appeal," she said.
"Now that there is a section [Seqwater] that is appealing, that is a matter for the courts.
"I would hope that gets resolved as quickly as possible because it just seems to be dragging on and on and on."
The class action was lodged in the New South Wales Supreme Court on December 4, 2017, because the option for a compensation class action was not possible under Queensland law at the time.
In 2012, three Wivenhoe Dam flood engineers were cleared by the Crime and Corruption Commission of criminal or official misconduct in their management of Wivenhoe Dam during the floods.