The Victorian government has been forced to quarantine more than 60 Australian soldiers in a Melbourne hotel after confusion about why they couldn't isolate on their base in Queensland.
Queensland Health Minister Yvette D'Ath on Wednesday accused the federal government of spreading "false claims" the state was not letting in up to 400 Queensland soldiers who were sent to Afghanistan for the mass evacuation effort. A hotel in Queensland has been set aside for the soldiers returning from Australia's military base in Dubai and Ms D'Ath said it was "never in doubt" they would be allowed to quarantine in her state.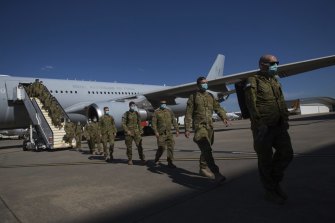 However, The Sydney Morning Herald and The Age can reveal a separate 62 Queensland-based soldiers who had completed a stint working on Victoria's hotel quarantine system are not in quarantine in their home state. They instead entered their 14-day isolation period at a "dedicated hotel" in Melbourne last Thursday.
Under Queensland Health rules, soldiers who have been helping states with COVID-19 outbreaks are allowed to quarantine on their base, but Defence never applied for an exemption from the Queensland government.
A COVID-19 Quarantine Victoria spokesperson said it was working with the ADF to support the 62 soldiers requiring quarantine accommodation before returning to their military base in Queensland.
Loading
"These ADF members have been working across our hotel network, supporting our program with airport arrivals, hotel transfers and a range of COVID-19 compliance measures," the spokesperson said.
The Melbourne hotel they are isolating in was due to be decommissioned as a quarantine facility as it had one of the lowest quality ventilation systems in the state, but the Victorian government has had to keep it open to quarantine the ADF members before they return to Queensland.
A Queensland Health spokesperson said military personnel are still allowed to enter Queensland and quarantine on base, a property owned or nominated by the ADF, or in hotel quarantine.