"This is a completely abhorrent proposal in 2021," he said. "We will oppose it at a political level, we will use whatever influence we have whatsoever to ensure that not a single dollar of taxpayer money gets spent on propping this ridiculous proposal up.
"We will talk directly to the investor community to ensure that investors understand that every dollar spent on this proposal is a dollar spent to destroy our forests, and a dollar against climate action.
"We will have a very large-scale community protest that ensures it is as difficult as possible for them to conduct this absurd operation."
Mr Gambian said woodchipping was a high-turnover, low-cost business which created markets for forests that should be left standing and encouraged loggers to intensify their practices, cutting down not only mature established trees but younger, smaller trees as well.
Dr Andrew Smith, a consultant forest ecologist agreed. "The last thing you want anywhere in Australia is a new market for low value, high-volume product because that's what's destroying the environment," he said.
Professor David Lindenmayer, an Australian National University specialist in forest ecology and the impact of logging, said the experience in southern NSW and in Victoria was that when markets for waste and chips were developed they tended to become self-sustaining and intensified logging practices.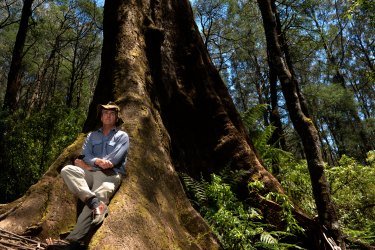 "If you keep cutting the forest at a very young age to keep feeding these mills, eventually the forests never grow old enough to produce saw logs," he said. In that case, harvesting for pulp and chips takes over and all trees end up being removed from the forests, he said.
The Western Australia proposal for an end to native forest logging by 2024 while expanding plantation industry will preserve 400,000 hectares that otherwise would have been logged, that state's government said.
According to Mr McGowan the expanded plantation industry will create 140 timber industry jobs and protect about 1980 jobs. He said the government would create a $50 million transition plan to help affected workers and businesses.
"By transitioning more of the forestry industry to sustainable timber products like softwood, we are investing in WA's future – supporting the construction and forestry industries, and our regional communities," he said.
Native forest logging will be phased out in Victoria by 2030.