Good evening and thank you for reading our live coverage of the day's events. If you are just joining us now, here's what you need to know:
NSW reported 1405 new local coronavirus cases and five deaths, as Premier Gladys Berejiklian announced a roadmap for easing restrictions in the state after 70 per cent of people aged 16 and over are fully vaccinated. The state is expected to reach that milestone in mid-October. The plan was praised by Prime Minister Scott Morrison but experts have expressed doubts, saying it appears to have been driven by industry rather than concern for the state's stretched hospital system.
Coronavirus modelling by the Burnet Institute, which is based on existing restrictions and was released by NSW Health this week, predicts the number of people in intensive care will peak in early November as the state is expected to open up. At this point, NSW Health says "demand for critical care services significantly exceeds organisation-wide capacity".
The freedoms mapped out by the NSW government will only be available to the fully vaccinated, or those with a medical exemption, and include trips to the hairdresser, gyms and pubs, regional travel, an increase to the number of guests permitted at weddings, and small gatherings in homes and outdoors where all adults are vaccinated. Masks will still be required indoors. You can read more about the changes here.
All written HSC exams will go ahead in NSW and results will be released shortly before Australia Day 2022 after the exam authority and universities struck a compromise deal to ensure there is enough time for marking and university offers.
Parts of regional NSW will exit lockdown on Saturday, and will be subject to the eased restrictions set to come into force statewide once that 70 per cent full vaccination target is achieved. Deputy Premier John Barilaro said parts of the mid north coast, north coast, north-west, Albury, Riverina and Murrumbidgee areas would exit lockdown due to their low case numbers.
The following local government areas will remain under stay-at-home orders with Greater Sydney: Bathurst, Bega, Blayney, Bogan, Bourke, Brewarrina, Broken Hill, Cabonne, Central Coast, Central Darling, Cessnock, Dubbo, Dungog, Eurobodalla, Forbes, Gilgandra, Goulburn Mulwarre, Kiama, Lake Macquarie, Lithgow, Maitland, Mid-Coast, Mid-Western, Muswellbrook, Narrabri, Narromine, Newcastle, Orange, Parkes, Port Stephens, Queanbeyan-Palerang, Shellharbour, Shoalhaven, Singleton, Snowy Monaro, Upper Hunter, Walgett and Wingecarribee.
The five deaths in NSW included a woman in her 40s who died at Liverpool Hospital. A man in his 80s died at Nepean Hospital, a woman in her 70s died at Ryde Hospital, a woman in her 70s died at Concord Hospital, and a man in his 80s died at Westmead Hospital. There are currently 1,175 COVID-19 cases in NSW's hospitals, with 202 people in intensive care. Eighty require ventilation.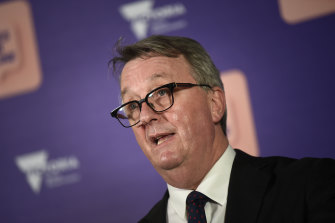 Victoria has recorded 324 new, locally acquired cases of COVID-19, a new record in the current outbreak.
Victoria's COVID-19 response commander, Jeroen Weimar, said it was "a very challenging number". "Be very mindful that we're now in an environment where there is widespread community transmission. That person next to you at the grocery aisle may be positive, and they may not know it, they may not be showing any symptoms. But we are seeing transmission in that environment." Workplaces were another key transmission site, he said.
Of the 111 people in hospital in Victoria, none have been fully vaccinated. Victorian Health Minister Martin Foley said that 89 per cent of people in hospital have had no vaccine while 11 per cent had one dose. Thirty-two people are in intensive care while 19 need a ventilator.
Health data shows active COVID-19 case numbers have surged in Melbourne's north and west over the past week, but are on their way down in Shepparton.
The ACT has recorded 15 new cases of COVID-19 in the community, five of whom were in quarantine for their entire infectious period. At least eight cases were in the community for part of their infectious period, and two cases remain under investigation. Nine people are hospitalised, with two of those people in intensive care. ACT Chief Minister Andrew Barr foreshadowed that he would be outlining a plan on Tuesday for the reopening of the territory. "Our approach will support a gradual and safe reopening that supports people back into work," he said.

Brisbane is on alert after a COVID-positive NSW truck driver was infectious in south-east Queensland for two days, including spending time at a Westfield shopping centre in Brisbane. The truck driver is the fourth in a fortnight to cause concern in Queensland.
West Australian Premier Mark McGowan delivered the state budget today and warned "wildly angry" states would seek to dismantle GST reforms after his government posted the country's biggest ever budget surplus on the back of booming iron ore prices. "We have to fight that," he said.The mining state posted a $5.6 billion surplus for 2020-21, which was $2.5 billion more than anticipated by Treasury officials in February. WA's next biggest surplus was $2.7 billion in 2007. The previous national record was set by NSW in 2016, when property taxes drove a $4.7 billion windfall.
New Zealand has recorded 13 new cases of COVID-19 in the community. Auckland remains under strict lockdown while the rest of the country has stepped down from level three restrictions (which are one step down from a lockdown) to level two, which allows people to return to school and work with a number of restrictions in place to combat the spread of the highly transmissible Delta variant of the virus.
This is Michaela Whitbourn signing off on the blog for this evening. Broede Carmody will be back with you tomorrow morning.
The Sydney Kings have suspended training until further notice after a player returned a positive COVID-19 test.
The NBL club is at the start of pre-season with the league pushing the start of the season until November 18 and all players and staff deemed as close contacts will be tested and self-isolate following NSW Health protocols.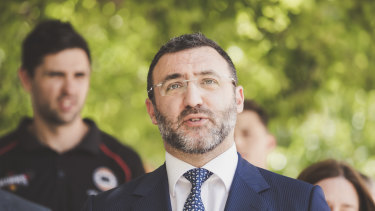 NBL champions Melbourne United were hit by a COVID-19 outbreak last year at the start of Victoria's second wave and later went on to win the championship.
The Kings said in a statement they were able to train under strict guidelines as an elite sporting team and the majority of their players and coaches had had their first vaccination shot.
Kings chief executive Chris Pongrass said the health of the player was their top priority.
"Our primary concern is for the health and wellbeing of our players, staff and their families and ensuring that we adhere to NSW Health regulations to mitigate any further risk to the wider community," Pongrass said.
"We will continue to work with the NBL and NSW Health to ensure the health and safety of our players and staff.
"While this is another hurdle for our playing group, we are resilient and our preparations for NBL22 continue; we look forward to being back out on court in front of our fans at Qudos Bank Arena in the coming months for what will be an exciting season."
NBL commissioner Jeremy Loeliger said the league was working with the Kings.
He added that while the NBL wasn't mandating vaccinations, players or coaches who weren't vaccinated would find themselves unable to play in every game nor travel into many states.
"We have been working closely with Sydney and the relevant health authorities to ensure all protocols are followed with the health and wellbeing of those impacted and the community a priority," Loeliger said.
"At this point, we are not going to mandate vaccinations for players, coaches and staff, but we will continue to educate our people and will strongly recommend it.
"It may be that those who don't get vaccinated won't be able to travel between states and countries, or even enter certain venues, and therefore won't be able to participate in some games when the season begins.
"Individuals that decide not to get vaccinated could be subjected to different rules depending on various government protocols and restrictions."
A train driver who works in Victoria's regional V/Line network has tested positive for COVID-19.
The driver worked on Saturday, Sunday, Monday and Tuesday, before testing positive for the virus on Thursday while he was asymptomatic.
He worked with a trainee driver on Monday and Tuesday, and visited one of V/Line's operation depots at Southern Cross Station across both those days and on the weekend.
Staff were evacuated from the depot on Thursday so it could undergo a deep clean but, under current practices, it is cleaned and sanitised three times a day. V/Line trains also undergo intensive cleaning each night.
Traralgon Station also underwent deep cleaning on Thursday afternoon, as the driver spent time in the driver's recreation room of the station during his Monday shift.
Some of the driver's colleagues have been deemed contacts and have to isolate until they test negative for COVID-19.
"We are closely monitoring staff availability and we are working hard to minimise any impact to services. At this stage, there has not been any service changes due to staff undertaking precautionary isolation and COVID-19 testing," a V/Line spokesman said.
"The health and welfare of our staff and passengers is our top priority, and we are working closely with the Department of Transport and Department of Health to ensure the appropriate actions are taken in response."
Close to 180 bus drivers have walked off the job at a western Sydney depot after one of their colleagues tested positive to COVID-19, and are warning they will not return until rapid antigen testing is introduced.
The Thursday afternoon snap-strike impacted more than 20 bus services in the city's west and further escalated an industrial dispute between the state government and transport workers over their calls for widespread testing across the network.
Employees at the Smithfield depot were told by management that a bus driver had tested positive to COVID on Thursday, according to the Transport Workers Union.
TWU NSW State Secretary Richard Olsen said rapid antigen testing was a necessity for transport workers, who were continuing to move essential workers across the city.
"Bus drivers at Smithfield have closed the depot because the NSW government won't listen to their calls for rapid-antigen testing, and they are prepared to keep the depot closed until this entirely reasonable demand is met," he said.
"This is as clear a demonstration as you'll ever get of the need for rapid antigen testing in bus depots."
Two Melbourne public housing towers have been declared COVID-19 exposure sites.
A public housing tower at 12 Holland Court in Flemington is not listed as an exposure site on the Department of Health's official website but a Department of Families, Fairness and Housing spokesman confirmed a positive case in the tower had been moved into alternative accommodation, and deep cleaning was under way.
"The community response has been fantastic, with large numbers already getting tested on site," the spokesman said.
Last month, the nearby public housing towers at 126 and 130 Racecourse Road were also declared exposure sites, with families in both testing positive for COVID-19.
Another public housing tower at 33 Alfred Street in North Melbourne was listed as a tier-2 site on the Health Department's website across Tuesday and Wednesday. Both that tower and the tower at 12 Holland Court were among nine in the state locked down with no warning on July 4, 2020.
The lockdown prompted an inquiry by the Victorian Ombudsman, who found the government's decision to enforce the immediate isolation of about 3000 tenants violated human rights.
The Health Department has listed dozens of other new COVID-19 exposure sites, including several tier-1 or close contact sites; one of them, Pascoe Vale Primary School in Melbourne's north.
The new tier-1 sites (where contacts must get tested for COVID-19 and isolate for 14 days regardless of the result) are as follows:
CMV Truck & Bus, Springvale – from Friday, August 27 to Thursday, September 2.
Ilim College, Glenroy Campus, Hadfield – Thursday, September 2 between 8.30am and 4pm.
Doncaster Land Rover, Doncaster – Wednesday, September 1 between 8am and 5pm and Thursday, September 2 between 8am and 1pm.
AWM, Coburg North – Monday, September 6 between 7.30am and 5pm.
Pascoe Vale Primary School, Pascoe Vale – Saturday, September 4 between 9am and 3pm.
Authorities also warned there would be some tier-1 contacts at an otherwise casual contact exposure site, manufacturer Diver Consolidated Industries at Reservoir in Melbourne's north.
The remainder of the new sites are tier 2 and include a cafeteria at Northern Hospital in Epping, tram routes, and apartment complexes in Essendon and Docklands.
A full list of Victorian exposure sites can be found here.
A COVID-19 cluster has been identified at St Vincent's Hospital in Darlinghurst, with two patients and three nurses testing positive to the virus.
"St Vincent's has commenced conducting rapid COVID swabs of all staff and patients who may have come into contact with the positive cases," hospital spokesperson David Faktor said.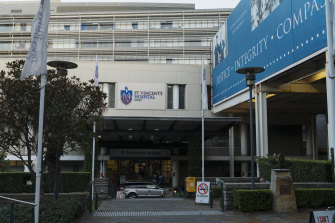 The hospital confirmed both patients, who are currently in the geriatric ward, are unvaccinated. Of the three nurses who have tested positive, two have received both vaccine doses and one is unvaccinated.
"The three staff members and two patients are now in isolation and are being supported by St Vincent's," Mr Faktor said.
"Deep cleaning has been undertaken in the impacted areas and all staff currently undertaking duties in the impacted areas are wearing additional PPE to ensure their safety."
"The contact tracing process has been swift and effective, with all staff complying with their appropriate isolation health orders. While the amount of staff in isolation has limited some of our service capacity, all the hospital's key services remain functional."
Hospitals continue to be the sites of multiple COVID-19 exposures, with health authorities confirming outbreaks at seven NSW hospitals in the past eight weeks. More than 100 patients have acquired the virus in the state's hospitals since the outbreak began.
Infections in unvaccinated and partially vaccinated nurses has plunged hundreds of hospital staff into isolation, with at least 1100 staff furloughed in the week ending 7 September.
A recently completed building at a hospital in Sydney's inner west will open exclusively to COVID-19 patients later this month.
The new clinical services building at Concord Hospital, initially set to house its cancer centre, aged health centre and dedicated veterans' health service will first be used as a dedicated COVID-19 treatment centre.
Australia has reaffirmed a joint commitment to fight terrorism with Jakarta as a new report warns pro-Islamic State cells in Indonesia are likely to try and launch attacks of their own in the wake of the deadly airport bombing in Taliban-held Kabul.
A new counter-terrorism pact between the neighbouring countries was announced in Jakarta on Thursday as Foreign Minister Marise Payne and Defence Minister Peter Dutton met with Indonesian counterparts Retno Marsudi and Prabowo Subianto on the first stop of a four-leg overseas tour.
The visit of Payne and Dutton came as Prime Minister Scott Morrison confirmed he expected to a hold face-to-face meeting of the "Quad" (Quadrilateral Security Dialogue) alliance in Washington within the next few weeks.
It could give Morrison the first opportunity to have a one-on-one meeting with US President Joe Biden.
Plans to hold a summit of the Quad – which involves Australia, the US, Japan and India – were thrown into doubt by the upcoming Japanese election and the resignation of Japanese Prime Minister Yoshihide Suga. But Suga has confirmed he will visit Washington later this month for the four-way meeting.
A NSW truck driver who has tested positive for COVID-19 was infectious in south-east Queensland for two days this week, including spending time at a Westfield shopping centre in Brisbane.
The truck driver was the fourth in a fortnight to cause concern in Queensland.
A public health alert has been issued after the driver was infectious in the state on Sunday, September 5, and Monday, September 6, before returning to NSW.
Contact tracing locations in Archerfield and at Westfield Garden City Shopping Centre in Upper Mount Gravatt have been added to the known exposure sites.
As we reported earlier, Victoria recorded 324 new cases of COVID-19 today, the highest number of cases in more than a year.
Just under one-third of Thursday's cases — 107 — have been linked to existing patients and clusters. The source of the other 217 infections remain under investigation. The breakdown of the new cases is as follows:
102 were in Melbourne's western suburbs;
195 were in the northern suburbs;
Five were in the east;
20 were in the southeast;
Two were in regional Victoria (in Shepparton and Mitchell Shire, both close contacts of existing cases);
The location of one case is still being traced.
Active COVID-19 case numbers have surged in Melbourne's north and west over the past week, but are on their way down in Shepparton, Health Department data shows.
There are currently 2166 active cases in Victoria across 174 postcodes, and using the map below you can see whether there are any active cases in your area:
NSW Labor Opposition leader Chris Minns has welcomed the Berejiklian's roadmap to easing coronavirus restrictions once 70 per cent of people aged 16 and over are fully vaccinated against the virus, but he says families and businesses in west and south-west Sydney are "crying out for more support".
On current estimates, the 70 per cent target will be met in mid-October, and the freedoms will only be available to people who have received both doses of a coronavirus vaccine.
Modelling by the Burnet Insitute, released by NSW Health this week, predicts that the state's hospitals will reach a peak of patients in intensive care in early November. The Australian Medical Association has noted that this modelling was based on existing restrictions.
Mr Minns said Labor welcomed the roadmap but was urging the government to "release further economic support measures and a recovery plan".
"It is not as simple as opening the doors and turning on the lights once the lockdown is finished".
Premier Gladys Berejiklian made clear today that while the roadmap would allow any fully vaccinated person to participate in the new freedoms, health authorities will still be able to restrict movement if there was a surge of cases in a certain area.
"We're definitely not out of the woods," Ms Berejiklian said.