Crown Resorts has created a new category of executive – those that fail lucratively. It's there for all to see in the disgraced company's latest annual report. Four key executives that left Crown over the past 18 months walked away with more than $32 million, including generous salaries and almost $10 million in termination benefits.
Shareholders should be outraged at the executive largesse. Not only have investors not received any dividends, but the board has allowed the key executives to make out like bandits.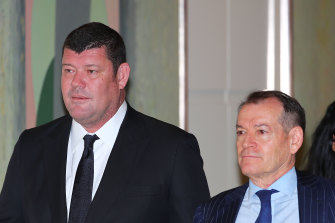 As recent history has underlined clearly, Crown has not been a company that can count self awareness on its list of attributes. It seems bizarre that the current Crown board, which is focused on rehabilitating the company's operations and image, did not seek to claw back any of this generous remuneration.
It is not unusual for large companies to pay well and reward executives with golden parachutes but not after a $261 million loss and not when the executives have overseen a company whose behaviour is so egregious that it has been the subject of not one, but two royal commissions and a commission of inquiry within 18 months. In addition, Crown faces two class actions and is hounded by an investigation by the anti-money laundering regulator AUSTRAC.
On just about every metric Crown has failed – be it risk, governance, responsible gaming, culture or disclosure.
The only small consolation is that the four executives, Barry Felstead, Todd Nisbet, Ken Barton and John Alexander did not exercise the total of 14 million Crown options previously granted to them.
The NSW inquiry led by Patricia Bergin found Barton 'no match for what is needed at the helm of a casino licensee' and was then placed on a six-month consultancy agreement.
The other notable element to the annual report was the auditor KPMG drawing attention to the material uncertainty relating to Crown's accounts being prepared on a 'Going Concern' basis.
In other words Crown doesn't just make money out of punters taking risks – its shareholders are taking them also.