By contrast, Premier Annastacia Palaszczuk said she was not worried about the vaccination rate on the Gold Coast, saying the rate varied across the council area.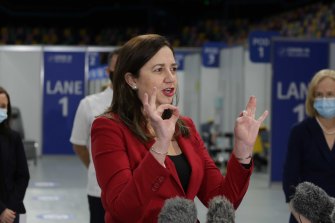 "My understanding is down near that southern part of the Gold Coast they're basically in line with the rest of the state … down around that Burleigh area and a little further north," the Premier said.
In addition to trailing the state rate, the Gold Coast rate is also well behind a number of other Queensland council areas which border NSW, notably Goondiwindi, which has a rate of 76.7 per cent first dose and 55.7 per cent second dose – the highest rate in the state.
Goondiwindi Regional Council mayor Lawrence Springborg said he was "immensely proud" of his community, and said they had achieved the high rate since widespread vaccinations started in June because the community wanted to do their part.
"We had a community that was really willing to step up, and when they were made aware and given the opportunity [to get vaccinated] they did so," Mr Springborg said.
Loading
Queensland Health set up a mass vaccination hub at Broadbeach in July, which opened with 1000 doses a day and is now administering 2500 doses a day.
It plans to increase its rate to 2800 as it gets more doses, although it still plans to take bookings at this stage, unlike a number of regional centres including Mackay which were announced by the state government as accepting walk-ins from this weekend.
A Gold Coast Hospital and Health Service spokesperson said more than 155,000 vaccines had been administered by Gold Coast Health since February, with about 60,000 of those through the Broadbeach hub.
Vaccines are also being delivered through GP clinics and pharmacies, which are reporting solid takeup but say there is still room for improvement.
Loading
Pharmacy Guild of Australia Queensland president Chris Owen said there was general complacency because there had only been short lockdowns in Queensland this year, and all clusters had been squashed.
"Queensland doesn't have a lot of active virus, so people are trying to get vaccinated through the state system, having a terrible time getting access, especially to Pfizer, and we're finding a lot of people are waiting," he said.
Mr Owen said Pharmacies only had access to the AstraZeneca vaccine at first, which had limited takeup slightly due to the ongoing public debate by health authorities over very rare side effects experienced by a small number of people who get that vaccine.
However, pharmacies are getting doses of the Moderna vaccine, an mRNA vaccine very similar to the Pfizer vaccine, from next week, and will be administering them from September 20, which he believes will drive more uptake, especially as they are already approved for people aged 12 and over.
"I anticipate we'll be run off our feet once Moderna arrives, particularly in areas which might have been lagging up until now," he said.
Griffith University disease control expert Peta-Anne Zimmerman said there had been an "availability vacuum" of vaccine doses, but now more were starting to be made available she predicted there would be strong uptake on the Gold Coast.
"There is vaccine hesitancy but that's not unusual," Dr Zimmerman said.
"When they were starting the rollout there wasn't this issue [of Delta in NSW]. It doesn't mean we should have done better, but availability of doses maybe wasn't what was needed.
"There are strategies to get vaccines into arms, and everyone should do that if they can, but the vaccine needs to be available for that to happen."