Alerting members to a meeting on Friday to discuss the preselection, Mr Nanva said Mr Hayes would leave "very big shoes to fill" and the party had a duty to ensure the next candidate for Fowler was "as strong and well-regarded as he is".
"In recent months I have discussed this matter with people from across our movement and, importantly, the local Fowler community. They have expressed a strong desire that the next Labor candidate for Fowler is someone with the experience and record of leadership required to ensure their communities are never left behind," he wrote.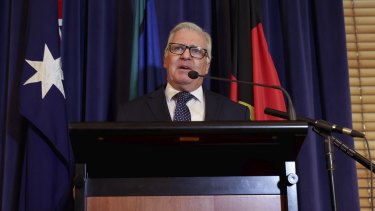 "That is why the officers will recommend that our group supports Kristina Keneally as the next Labor candidate for Fowler.
"As a member of the federal leadership team, Kristina will make sure that Fowler is represented at the highest levels of an Albanese Labor government. It will also mean one of the most formidable Parliamentary performers joins Labor's House of Representatives team.
Loading
Senator Keneally is expected to announce as soon as Friday that she intends to make the switch. However, her office said that the preselection was a matter for the party.
Mr Hayes's brother, Gerard, the national president of the influential Health Services Union, is also scathing of the development.
"It's a bit like Hong Kong," he told the ABC. "People can vote, but Labor is telling them who they can vote for – irrespective of the candidate.
"Why are we losing our base? Because we do stuff like this."
Senator Keneally, who lives on Scotland Island on Pittwater in northern Sydney, has given colleagues an undertaking she would move to the electorate if her preselection was successful.
Labor leader Anthony Albanese said on Thursday, while issues surrounding the preselection were a matter for the NSW branch, Senator Keneally was "a fantastic and valued member of my team".
"I think she makes an enormous contribution as both a Senator and as a frontbencher. And I look forward to Kristina continuing to make a contribution well into the future," he told reporters.
"She is a strong supporter of mine and I've always had a very good relationship with Kristina. She's a valued member of the team. What the team is focused on is removing this government."