"These numbers suggest to me there is pent-up demand out there, and when people do their homework this is resonating with them."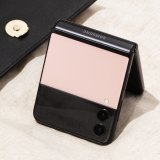 Of course in a time when retail stores are closed, pre-orders are hardly different from any kind of order; even once the devices are on sale this Friday, many Australians will have to purchase them sight unseen.
"People will obviously want to touch, feel and experience these products, and obviously they can't do it [at retail] at the moment," McGregor said.
"When stores do open, hopefully there's another wave of interest … but let's be honest, the retail experience we were familiar with two years ago, it's going to be very different. There's going to be limitations and the number of people in stores, the devices will need to be cleaned and sanitised."
The connection between Note and Fold is an interesting one, as both attracted a cohort of early adopting power users, but both have also suffered very serious and much publicised defects. The Note7 was recalled in 2016 after some batteries caught fire or exploded, while the original Fold was delayed in 2019 when reviewers found the hinge could malfunction and puncture the screen.
McGregor said some high-profile failings were the cost of pushing cutting-edge technology ahead of its competitors, and that Samsung was in frequent contact with customers to ensure they sayed with the brand after a bad experience.
Loading
"We talk to those customers, and it's a brilliant world we live in as well that customers do make themselves known to us. What happened with the early Folds, and Note7 batteries, it's made us a better company. You take those learnings and move forward," he said.
"There are still a lot of customers in Australia who are using the original Fold, and I strongly encourage them to come across and experience Fold3 because the experience is markedly different."
While it's possible people who bought a $3000 phone in 2019 could be miffed that Samsung is now selling a fixed version for $2500, the company does have a trade-in program for upgrades.
Get news and reviews on technology, gadgets and gaming in our Technology newsletter every Friday. Sign up here.