As if the Demons needed another highlight tonight, James Harmes says, "here you go!"
First published in The Age on August 27, 2006
Desperate acts can't split Cats, Demons
FOOTBALL is played on a huge field, over a marathon 120 minutes. But Melbourne and Geelong's thrilling draw at Skilled Stadium yesterday proved that, when it goes down to the wire, football can be a game of millimetres and milliseconds, not to mention one percenters.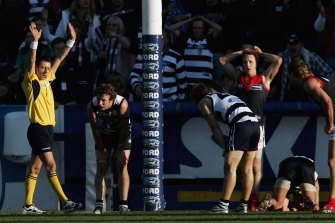 With the scores level and only moments to play, Matthew Scarlett snapped over his shoulder as the Cats surged forward again – as they had done almost all the final quarter – in a last-ditch effort to snatch a season-saving win.
But, as they had also done all quarter, it appeared yet again the Cats would squander their chance when Scarlett's kick seemed to be sailing benignly into the arms of Melbourne defender Nathan Carroll in the goal square. Yet somehow, whether due to the floating flight or pressure, Carroll dropped the simple chest mark, allowing Jimmy Bartel to pounce.
Chief football writer Jake Niall says Max Gawn's four goals in the third term reminded him of an iconic moment from Australian test cricket:
Max Gawn's four goals in a quarter is one of those remarkable subplots within a game – like David Hookes' five consecutive boundaries off Tony Greig in the centenary test (1977).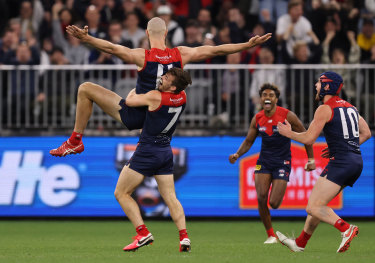 Melbourne has thrown the knockout punch to have their place in the grand final secured before the final term has even begun.
Max Gawn was the star in that third term kicking four of his five goals for the match to do much of the damage and give Geelong no chance to get back into this contest.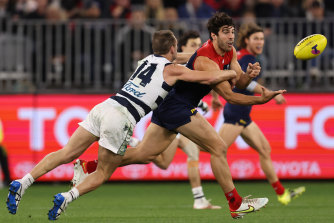 The Demons have also withdrawn Steven May after his early hamstring woes while Gary Rohan has been subbed off by Geelong with his own hamstring issues.
Shaun Higgins has come on for the Cats, James Jordon for the Demons.
Melbourne 5.3, 9.6, 17.8 (110)
Geelong 1.0, 5.1, 5.2 (32)
GOALS
Melbourne: Gawn 5, Spargo 2, B.Brown 2, Pickett 2, Harmes, Neal-Bullen, Petracca, Sparrow, Fritsch, McDonald
Geelong: Cameron, Stanley, Miers, Hawkins, Smith
DISPOSALS
Melbourne: Petracca 29, Viney 28, Oliver 23, Salem 20, Gawn 18
Geelong: Dangerfield 24, Duncan 19, Tuohy 18
INTERCEPTS
Melbourne: Lever 6, Salem 5, Viney 5
Geelong: Blicavs 7, Z.Guthrie 5, Kolodjashnij 5
The Demons have taken no chances with Steven May as their lead passes 10 goals with the star defender officially subbed out and James Jordon coming on as medical substitute.
Age chief football writer Jake Niall says the Demons were right to not risk him any further:
There's no need to keep Steven May out there. If he's hardly going to make a difference in such a one-sided game.
Kysaiah Pickett has booted a goal from point blank range to add to the Melbourne lead.
Demons fans need to lap this up. What a glorious way to go into a grand final.
Demons lead 109-32 with seven mins left in Q3.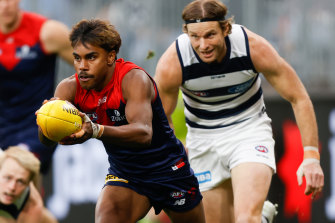 Gawn has come up with yet another goal and the Cats must be shaking their heads.
Garry Lyon, David Neitz and Robbie Flower are the only other Demons to kick four goals in a finals match.
He is in special company.
He followed up with his fifth goal after a mark and straight kick.
The camera's cut to Lyon punching his desk in celebration.
Dees lead 102-32 with 10 mins left in Q3.
Max Gawn has kicked his third goal and looked to calm his young side dishing out some high-fives and urging them to keep on attacking the contest with so much time left in the match.
Steven May is off for more treatment, they may well have pulled him out of the game.
Demons lead 90-32 with 12 mins left in Q3.
The Demons have kicked four goals in a matter of minutes to start this third term and Geelong is in all sorts of trouble.
Tom McDonald has snapped a goal from 40m out after Oliver won the ball from the centre bounce.
The Demons are untouchable right now and lead 84-32 with 16 mins left in Q3.
The Demons have struck both a scoreboard and a psychological goal with Joel Selwood clashing with a player behind the play leading to Bayley Fritsch receiving a 50m penalty and kicking the goal.
Selwood protested yelling "He dived" but the umpire had made his decision and that protest gave the Demons more reasons to bump and laugh at the Cats skipper.
Max Gawn has followed up with another running goal with has his teammates mobbing him.
This is a night to remember for the red and the blue.
Demons lead 78-32 with 16 mins left in Q3.