Wisely, his main focus is the issue that continues to dominate American life: the coronavirus pandemic.
In a speech at the White House, Biden unveiled a six-pronged "action plan" to boost vaccination rates and drive down COVID cases.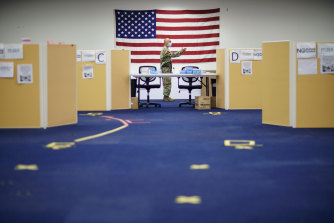 The headline-grabbing aspect of the plan is a requirement for all workers at companies employing more than 100 people to be vaccinated or submit to weekly testing. This policy, which will affect around 80 million workers, is far more extensive than had been expected.
The substance of the plan was applauded by public health experts.
Just as important was Biden's rhetoric. No longer was he nagging the unvaccinated to roll up their sleeves; instead he delivered them some overdue harsh truths.
Loading
"Your refusal has cost all of us," Biden said. "This is not about freedom or personal choice – it's about protecting yourself and those around you."
Biden was channelling the sentiments of the majority of Americans who have been vaccinated and are fed up with those who have refused to do so. Particularly incensed are the parents of children who are too young to be vaccinated and risk contracting the virus because of unvaccinated adults.
The administration has also seized other ways to shift the discussion away from Afghanistan.
Biden has been forceful in condemning the extreme Texas anti-abortion law that would make terminations a crime after six weeks – even in the case of rape or incest. Just before Biden's COVID announcement, his Justice Department announced it would sue Texas over what it called the "clearly unconstitutional" law.
Abortion is a divisive issue in America and is an animating force for religious conservatives. But the Texas law sits well outside the American mainstream given polls show six in 10 Americans want the landmark Roe vs Wade abortion rights decision to remain in place. Like on COVID vaccine mandates, Biden is picking his fights wisely by siding with the majority.
A day earlier the Treasury Department released a new analysis showing that the wealthiest 1 per cent of Americans are evading $US163 billion a year in taxes. Taking on tax-evading millionaires is another political winner.
Biden's next big challenge is to get his massive multi-trillion spending plans on infrastructure and social policy through Congress. That would help show Americans that government can improve their lives in practical, noticeable ways.
The President's reset has a long way to go, but he's off to a strong start.
Get a note direct from our foreign correspondents on what's making headlines around the world. Sign up for the weekly What in the World newsletter here.