Good evening and thank you for reading our live coverage of the day's events. If you are just joining us now, here's what you need to know:
NSW reported 1542 new local coronavirus cases and nine deaths on Friday. While Premier Gladys Berejiklian said the number of cases was expected to peak "in the next week or so", and modelling suggests the number of patients in the state's intensive care units will peak in November, she said the government would stop holding daily COVID-19 press conferences from next week.
Starting on Monday, NSW Health will provide the daily coronavirus update via an online video. This is a communications strategy previously used when case numbers were low.
Ms Berejiklian defended her decision on daily press conferences, saying that "to expect the leader of the government indefinitely to do this every day means that I am not doing my job properly". She said the government would continue to "present to the community on a needs basis". "I need to make sure we have a good balance and we live with COVID and I am accountable every day," she said.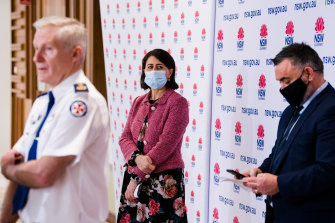 The nine new deaths recorded in NSW included a man in his 30s from Nepean Blue Mountains and a woman in her 40s from south-western Sydney. Two other people – a man in his 70s from the city's south and a man in his 60s from the west – died at home. A man in his 70s from south-east Sydney, a woman in her 50s from the Central Coast, a man in his 60s from western Sydney, a woman in her 80s from western Sydney and a man in his 50s from south-west Sydney also died. All had underlying health conditions and only three were fully vaccinated. Another three had received a single dose of a vaccine.
There are now 1156 COVID-19 patients admitted to NSW hospitals, 207 of whom are in intensive care. Of those in ICU, 89 require ventilation.
Prime Minister Scott Morrison praised the Berejiklian government for releasing its roadmap this week for easing restrictions for fully vaccinated people once 70 per cent of people aged 16 and over have received both doses of a coronavirus vaccine. That milestone is expected to be reached in mid-October. While some experts are concerned the plan appears to have been driven by industry rather than a consideration of the state's stretched hospital system, Mr Morrison said it was safe and gradual. "It's not just all open in one day. It's a sensible [and] … a safe plan. This is something that is carefully thought through," he said.
Australia's medicines regulator has restricted the prescription of ivermectin, after unfounded claims it can be used to treat COVID-19 led to a spike in use of the potentially dangerous anti-parasitic drug.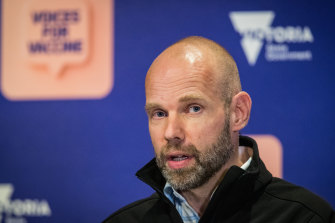 Victoria recorded 334 locally acquired cases of COVID-19, a new record during the current outbreak, and one death. There are now 127 people in hospital, none of whom are fully vaccinated. Ten per cent of those patients have had one jab.
A Victorian man who died with COVID-19 on Thursday, aged in his 70s and from Coburg in Melbourne's north, was not vaccinated and died in hospital. Victoria's coronavirus response commander, Jeroen Weimar, said 52 per cent of the state's vaccines were being allocated to Melbourne's north and west, which are at the epicentre of the outbreak. The residents there are also younger and have only recently had broad access to vaccines.

As in NSW, Melbourne's path out of lockdown now depends on hitting vaccination targets. Victoria's COVID-19 response commander Jeroen Weimar said the state should "smash" its initial expectation of vaccinating 70 per cent of eligible people with at least one dose by September 23. "We think we'll smash that by quite a few days," Mr Weimar said.
Students at a south-east Queensland school were sent home after a pupil tested positive for COVID-19 on Friday morning and new exposure sites have been listed, as authorities also race to control a so-far separate scare stemming from an infected NSW truck driver.
The ACT recorded 24 new, locally acquired cases of COVID-19, up from yesterday's total of 15 cases. Six people were out and about in the community for at least some of their infectious period. There are now 15 people hospitalised with COVID-19 in the nation's capital. There are 238 active cases of coronavirus across the ACT. As revealed yesterday, Chief Minister Andrew Barr says we can expect a cautious road map out of lockdown from next week.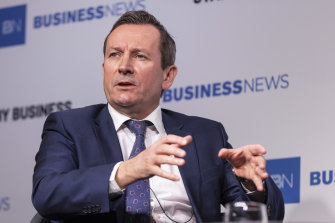 West Australian Premier Mark McGowan has brushed off a fairly niche insult by NSW Treasurer Dominic Perrottet, who likened him today to the fictional Lord of the Rings creature Gollum. Speaking on Sky today, Mr Perrottet conjured a rather striking image of Mr McGowan sitting in his WA "cave" with "his little precious: the GST" (the little precious of J.R.R. Tolkien's imagination was a powerful ring central to the fantasy series). Mr Perrottet rolled out the Tolkien reference after Mr McGowan delivered a state budget on Thursday with a massive $5.6 billion surplus, thanks to iron ore royalties. The NSW Treasurer said the WA budget had a substantial surplus but no reform to protect the cash from any future downturns. Mr McGowan wouldn't be drawn on the Gollum comparison.
New Zealand has recorded 11 new cases of COVID-19 in the community, all of which were in Auckland region. Auckland remains under strict lockdown while the rest of the country has stepped down two levels of restrictions, allowing people to return to work and school. Masks must be worn indoors.
This is Michaela Whitbourn signing off on the blog for today. We'll be back tomorrow morning.
NSW Deputy Premier John Barilaro says the MidCoast local government area will join parts of regional NSW lifting lockdown measures tonight.
"Following community consultation I requested NSW Health review the decision to continue stay-at-home orders in the MidCoast LGA," Mr Barilaro announced on Twitter.
"It has been decided MidCoast LGA will now emerge from lockdown at midnight tonight."
The LGA covers more than 10,000 square kilometres including the NSW Mid North Coast towns of Forster and Taree.
On Thursday, Mr Barilaro said parts of regional NSW deemed low risk, with zero COVID-19 cases for at least 14 days, would emerge from lockdown at 12.01am on Saturday, September 11 under eased restrictions.
"There will be capacity limits for our hotels, cafes and restaurants, including the four square metre rule, mask wearing, social distancing," he said.
Mr Barilaro, also the Regional NSW Minister, had said the MidCoast LGA would be reviewed given it had only one case.
Stay-at-home orders remain in place for Greater Sydney and the regional LGAs of Bathurst, Bega, Blayney, Bogan, Bourke, Brewarrina, Broken Hill, Cabonne, the Central Coast, Central Darling, Cessnock, Dubbo, Dungog, Eurobodalla, Forbes, Gilgandra, Goulburn Mulwaree, Kiama, Lake Macquarie, Lithgow, Maitland, Mid-Western, Muswellbrook, Narrabri, Narromine, Newcastle, Orange, Parkes, Port Stephens, Queanbeyan-Palerang, Shellharbour, Shoalhaven, Singleton, Snowy Monaro, Upper Hunter, Walgett and Wingecarribee.
A medical clinic and a cafe in the Victorian spa town of Daylesford have both confirmed they are exposure sites after a positive case visited both venues, although neither has been added to the official list of exposure sites.
Cliffy's Emporium confirmed in a Facebook post that a staff member had tested positive for coronavirus after working there on September 7.
"We sincerely apologise for any inconvenience. We will share all relevant information as it becomes available," the post said. "As you can imagine, it's an awful situation for the staff member and the team to be in."
Springs Medical Daylesford also posted a statement, saying it had become a tier-1 exposure site after a positive case visited the clinic.
"We have been advised by the Department of Health that a positive COVID-19 case visited Springs Medical Daylesford 10 Hospital Street on Wednesday 8th September. We have closed our Daylesford clinic for deep cleaning," it said.
Hepburn Shire mayor Lesley Hewitt said the council learned about the exposure sites late on Friday afternoon. She said contact tracing had already begun.
"Our officers are working with the Health Department to support them in any way they can," she said. "We want to get on top of it and shut it down."
Among exposure sites added to Victoria's official list are:
A construction site near Melbourne Airport and apartment complexes in Yarraville and South Yarra. The building site at 40 Annandale Road is listed as a tier-1 exposure site over three days, and anyone who visited during the specified times need to get tested and isolate for 14 days regardless of the result.
The Australia Post outlet in Wyndham Village Shopping Centre in Tarneit was also declared a tier-1 site for an exposure on September 2.
An apartment building in South Yarra has been added as a tier-2 site for a seven-day period to Thursday. Anyone who attended a tier-2 venue at the listed times need to isolate until they test negative for coronavirus.

Another apartment complex on Kavanagh Street in Southbank was added as a tier-2 location for one-week period up to Thursday.
Prime Minister Scott Morrison has returned to Sydney from Canberra and will work from home under NSW stay-at-home rules.
Mr Morrison was criticised early in the week for going between the two locked-down cities over the Father's Day weekend, without revealing his travel until it was publicised in The Sydney Morning Herald and The Age.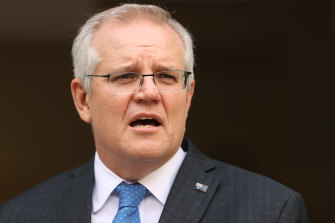 The prime minister's office sent out a statement on Friday afternoon confirming he was back in Sydney again after he spent time in Canberra this week.
"It is expected the Prime Minister will need to travel to Canberra mid next week for security-related briefings that are required to be undertaken in person," a spokesman said.
"If that is required, the Prime Minister will seek the same conditions of entry to the ACT as have been granted to other parliamentarians to minimise health risks while also ensuring Australia's government can continue its work."
The UK government has dismissed reports that it is planning a so-called "firebreak" lockdown in late October to stem the number of new COVID-19 infections, and says a lockdown would only be used as a last resort.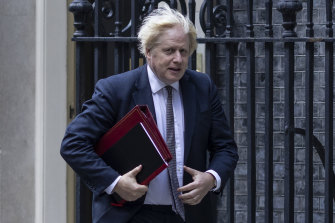 A spokesperson for Prime Minister Boris Johnson said this week it was "not true that the government is planning a lockdown or firebreak around the October half-term" school holidays, which starts for most schools on Friday October 22, with students returning to school on November 1.
"We have retained contingency plans as part of responsible planning for a range of scenarios, but these kind of measures would only be reintroduced as a last resort to prevent unsustainable pressure on our NHS," the spokesperson said.
"I think we've been clear throughout that we will take action, and indeed we have done when necessary to protect our NHS.
"But under the previous occasions when that action has been required, we have been without the significant defences that our vaccination programme provides us – we're now in a much different phase."
Australia's medicines regulator has restricted the prescription of ivermectin, after unfounded claims it can be used to treat COVID-19 led to a spike in use of the potentially dangerous anti-parasitic drug.
In recent months, prescriptions for the ivermectin, usually used to treat infections such as scabies and ringworm, have been filled at a rate three to four times the usual amount.
"It is believed that this is due to recent prescribing and dispensing for unapproved uses, such as COVID-19," the Therapeutic Goods Administration said in a statement.
"Such shortages can disproportionately impact vulnerable people, including those in Aboriginal and Torres Strait Islander communities."
General practitioners will only be able to prescribe the drug for scabies and a set list of parasitic infections.
Specialists including infectious disease physicians, dermatologists, gastroenterologists and hepatologists can prescribe the drug for patients whose conditions fall outside the list if they believe it is appropriate.
"Ivermectin is not approved for use in COVID-19 in Australia or in other developed countries, and its use by the general public for COVID-19 is currently strongly discouraged by the National COVID Clinical Evidence Taskforce, the World Health Organisation and the US Food and Drug Administration," the TGA said.
The regulator expressed concern about social media posts that recommended the drug be taken at rates much higher than safely prescribed, as well as the possibility people were taking ivermectin as an alternative to COVID-19 vaccination.
Earlier this month, it was reported a man from western Sydney presented to Westmead Hospital with vomiting and diarrhoea after taking ivermectin.
In August, the TGA issued a warning against self-medicating with the drug after imports increased.
People who have taken ivermectin are advised to call the poison information hotline on 13 11 26 or triple zero (000) in an emergency.
Twenty years ago the world changed forever when 19 al-Qaeda terrorists hijacked four commercial aircraft and launched a series of co-ordinated attacks on the United States.
The images of planes flying into the twin towers in New York, the burning wreckage of aircraft in a field and at the Pentagon, and the devastation left as the towers collapsed, are burned into the memories of the entire world.
The attacks left nearly three thousand people dead, changed air travel and began the two-decade "War on Terror".
Today on our podcast, Please Explain, North America correspondent Matthew Knott joins Nathanael Cooper to look at what has occurred in the twenty years since the September 11 attacks.
Sydneysiders wanting to enjoy new freedoms for the fully vaccinated from Monday may have to settle for soggy picnics, with a string of rainy days forecast for next week.
But the weekend will provide a taste of summer, with the mercury predicted to climb into the high 20s on Saturday and Sunday with plenty of sunshine.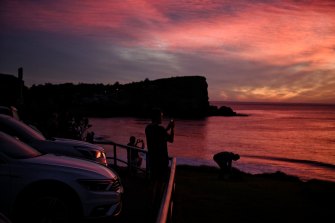 Restrictions on outdoor gatherings are set to ease in Sydney on Monday for fully vaccinated people. Residents who don't live in the 12 local government areas of concern will be allowed to gather outdoors in groups of five (children under 12, for whom no vaccine is approved, are not counted in the total).
In the LGAs of concern, household groups where all adults are vaccinated are able to engage in outdoor recreation together (including picnics) for up to 2 hours. The 9pm to 5am curfew still applies. This recreation time is in addition to exercise.
Weatherzone meteorologist Brett Dutschke said anyone wanting to get outside to enjoy their new freedoms with friends and family on Monday should get an early start on the day.
"The chances [of rain] are very low in the morning but when we're getting into the afternoon it's much higher," he said.
The Herald's photographers have been out and about today making the most of the springtime weather and capturing NSW life during lockdown.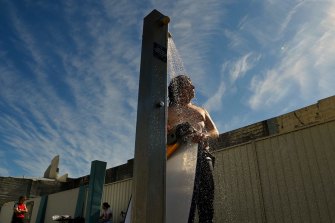 You can peruse more of their work by clicking on the gallery above, or read the full story about the weather forecast here.
Rapid antigen tests at home will be a key part of dealing with the COVID-19 pandemic in the coming months, but the head of the Doherty Institute says there is still potential for the virus to throw more curveballs at the world.
Australia will also be a two-tier country for a while with COVID-zero and COVID positive states taking different measures to control the pandemic, Doherty Institute director Professor Sharon Lewin says.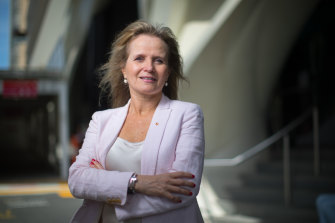 "There will be unexpected challenges that we would not have anticipated — just like we didn't really anticipate Delta," she said.
On Friday, Professor Lewin convened a conference to bring together leading health experts and researchers to discuss the future of COVID-19. The conference, run by the Australasian Society for HIV, Viral Hepatitis and Sexual Health Medicine (ASHM), will hopefully be the first of many to unite scientists, clinical researchers and the community to discuss the latest research about the coronavirus, she said.
Professor Lewin said over the next six to 12 months she expects to see better treatments for people with the disease and more innovation in COVID testing.
"Home tests can make a big difference. We've been doing it for pregnancy forever. And we now do it for HIV," she said.
The Doherty Institute produced the modelling being used by the federal government to guide the national recovery from the pandemic, and that research informed the 70 and 80 per cent double vaccination targets set by national cabinet for restrictions to begin easing.
But Professor Lewin said home testing was an important tool to include in the pandemic response.
Prime Minister Scott Morrison says on the 20th anniversary of the September 11 terror attacks on Saturday he will think about the families of people who died in the "terrible tragedy".
"My mind is really going to the families of those who lost people on that day," he told Radio 2GB on Friday.
"There were 10 Australians who were killed on that day that we're aware of."
Mr Morrison said he was at home with his wife Jenny watching television when the news broke in the evening of September 11, 2001 Australian time.
"We just sat there numbed, watching this unfold, it was unreal, it was hard to take it all in," he said. "You could barely believe what you were seeing."