The Melbourne Football Club, the game's oldest and holders of the longest stretch without a premiership, have never had such a team since that last flag under the great Norm Smith in 1964.
It is a team that has been brilliantly assembled over several years, and which has the kind of prodigious talent that could produce multiple premierships, although those of the red and blue hue will be happy with just one in a fortnight after so many letdowns, false dawns and failures.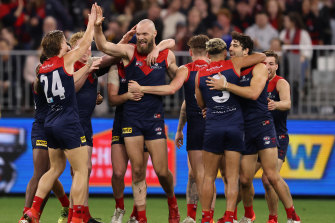 But there's no reason to doubt this team, which has nearly every positional base covered and which shredded Geelong as if the Cats were a depleted bottom-four side.
The Cats were smashed in the contest, around the ball, and in crucial ground balls, in their forward line, in the middle, and down back. Melbourne's chaotic style – get it forward, get it to ground, scramble, pressure and score – made Geelong's controlling method obsolete.
Their defence melted in the face of Melbourne's speed and ferocity on the deck. They were as embarrassed as a team can be in a final, as outclassed as the doomed, plucky Demons were in grand finals under Neale Daniher (2000) and even John Northey (1988).
Melbourne have had great footballers in their decades of failure, and those years under Daniher and Northey when they were, contrary to the club stereotype, blue collar and without sufficient class. Robert Flower, Stan Alves, Gary Hardeman, Garry Lyon, David Neitz and, for a fleeting period, David Schwarz, were tremendous, but they never had enough teammates of equal calibre.
This team, conversely, has enough talent that Jake Melksham can't get a game, Nathan Jones isn't in their best 22 and Michael Hibberd – excellent in defence in this game – was only called up because of an injury to Joel Smith.
If Christian Petracca was the most destructive player when the match had a pulse – his Dusty Martin-esque bull abilities fully expressed – and his midfield colleagues Clayton Oliver and Jack Viney excelled, as did Christian Salem and Charlie Spargo in the early hurly burly – there's no question about the Demon who stood tallest on this evening.