Keith Reeves, who lives in Mount Helena, said the Demons' success this year had given him some respite from the taunts of workmates at Racing and Wagering Western Australia where he is a starter steward.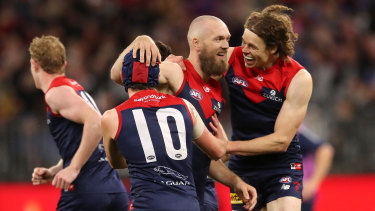 "For the past 15 years they've been giving me hell. So, I've got my own back this year," he said.
He described the atmosphere at Optus Stadium as "absolutely over the top". "I'm still shaking. That's how much it means to me."
Mr Reeves said he would try to get tickets to the grand final as soon as they became available online.
Joel Pearce has been a dedicated Demons' supporter since he was five-years-old. He left a holiday in Bali in 2018 to fly home, so he could watch his team lose a preliminary final to the Eagles by more than 10 goals in 2018.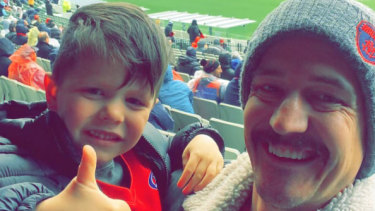 Mr Pearce, who owns four gyms, said Friday night's win provided great joy in a dark year in which his business has been badly battered by the pandemic.
"This is the brightest star I could ask for," he said. "I cannot even tell you how much this means to me."
By half-time Mr Pearce was on "cloud 9" and predicting a 47-point win for his Demons even though the last two goals from Geelong had given him a scare. "There's no stopping us," he said. "We've got this."
In the mid-90s Mr Pearce got the chance to run onto the ground as the Demons' mascot for a game against Collingwood.
He couldn't help making a "rude gesture" at the Collingwood cheer squad. "It was just the passion coming out when you've got a lot of people booing."
But he cherished the experience. "It was a feeling I'll never forget," he said. "You're there watching your absolute heroes run past you. It's exhilarating."
Diehard Dees fan Stephen Le Get, who lives in Burwood, also had to be content with watching from home with his son James who shares his love of the club.
He felt deflated when Melbourne went into lockdown as the Demons charged towards the finals in the last rounds of the home and away season, and he was unable to watch them up close.
"I was really down that again it was taken away from us," he said.
But on Friday he was glad his team had finally found success. "This is huge."
Keep up to date with the best AFL coverage in the country. Sign up for the Real Footy newsletter.