The White House is gearing up for many legal challenges and believes that even if some of the mandates are tossed out, millions of Americans will get a shot because of the new requirements — saving lives and preventing the spread of the virus.
Biden is putting enforcement in the hands of the Occupational Safety and Health Administration, which is drafting a rule "over the coming weeks," Jeffrey Zients, the White House coronavirus response coordinator, said. He warned that "if a workplace refuses to follow the standard, the OSHA fines could be quite significant."
Loading
Courts have upheld vaccination requirements as a condition of employment, both before the pandemic — in challenges brought by health care workers — and since the coronavirus outbreak, said Lindsay Wiley, director of the Health Law and Policy Program at American University Washington College of Law.
Where Biden's vaccine requirements could be more open to attack is over questions of whether the administration followed the proper process to implement them, she said.
"I think the challenges that are harder to predict the outcome of are going to be the ones that are really sort of the boring challenges about whether they followed the right process," Wiley said.
Indeed, establishing if the mandate is legally sound is separate from whether it will be upheld by judges, including by a conservative-majority Supreme Court which has trended toward generous interpretations of religious freedom and may be looking to ensure that any mandate sufficiently takes faith-based objections into account.
The expansive rules mandate that all employers with more than 100 workers require them to be vaccinated or test for the virus weekly, affecting about 80 million Americans. And the roughly 17 million workers at health facilities that receive federal Medicare or Medicaid also will have to be fully vaccinated.
Biden is also requiring vaccination for employees of the executive branch and contractors who do business with the federal government — with no option to test out. That covers several million more workers.
Republican-dominated Montana stands alone in having a state law on the books that directly contradicts the new federal mandate. The state passed a law earlier this year making it illegal for private employers to require vaccines as a condition for employment.
But University of Montana constitutional law professor Anthony Johnstone said the federal rules would trump the state law. That means larger Montana businesses who previously couldn't require their employees to get vaccinated will now likely be required to, including hospitals that are some of the largest employers in the sparsely populated state.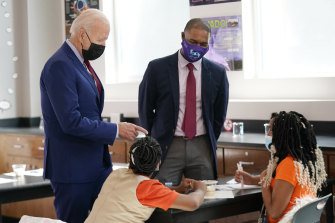 Given that the rules are still being drafted and haven't been released, experts say the devil is in the details.
For example — with the growing number of fully remote businesses and workers — if the rules are written to include people who don't have workplace exposure, "there certainly is room for an issue there," said Erika Todd, an employment attorney with Sullivan & Worcester in Boston.
The thornier question, though, is how employers — and courts — will sort through requests for accommodations for employees on religious or other grounds. Though such accommodations may include having an employee work from home, but he added, "you can have a situation where someone has to be present and you can't provide an accommodation because of the danger involved."
"I would not be a betting person if this went up before the Supreme Court," Craver said. "I could even picture the court divided 5-4, and I wouldn't bet which way it would go."
AP