Rapid antigen tests at home will be a key part of a more sustainable way of dealing with the pandemic in the coming months, but the head of the Doherty Institute says there is still potential for the coronavirus to throw more curveballs at the world.
Australia will also be a two-tier country for a while with COVID-zero and COVID-positive states taking different measures to control the pandemic, Doherty Institute director Professor Sharon Lewin says.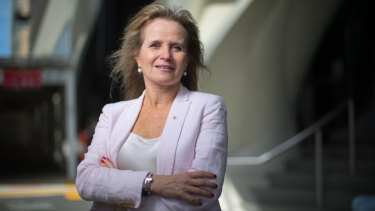 "There will be unexpected challenges that we would not have anticipated — just like we didn't really anticipate Delta," she said.
On Friday, Professor Lewin convened a conference to bring together leading health experts and researchers to discuss the future of COVID-19. The conference, run by the Australasian Society for HIV, Viral Hepatitis and Sexual Health Medicine (ASHM), will hopefully be the first of many to unite scientists, clinical researchers and the community to discuss the latest research about the coronavirus, she said.
Loading
Professor Lewin said over the next six to 12 months she expects to see better treatments for people with the disease and more innovation in COVID testing.
"Home tests can make a big difference. We've been doing it for pregnancy forever. And we now do it for HIV," she said.
The Doherty Institute produced the modelling being used by the federal government to guide the national recovery from the pandemic, and that research informed the 70 and 80 per cent double vaccination targets set by national cabinet for restrictions to begin easing.
But Professor Lewin said home testing was an important tool to include in the pandemic response.