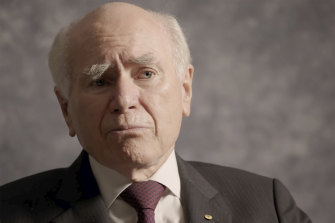 Mr Morrison insisted it was a PR dream and attempted to convince Ms Bailey that the censor's decision was not entirely unexpected, but political insiders reveal the minister was growing increasingly wary of his assertions.
With the help of former British high commissioner Sir Alastair Goodlad, Ms Bailey led an Australian delegation to London to push Australia's case, shadowed by the ad's star, Lara Bingle, now Lara Worthington, but deliberately excluded Mr Morrison.
According to government staff from that time, Ms Bailey blamed Mr Morrison for the ban and told Mr Howard's office that there was no way Mr Morrison could be involved in the rescue mission as "he'd stuffed it up".
But a source close to Mr Morrison said he was already in Europe for other meetings and laid the groundwork to overturn the ruling before Ms Bailey arrived.
After returning from Britain, Ms Bailey sought advice from then-secretary of the Department of Prime Minister and Cabinet Peter Shergold. The pair had a heated discussion about Mr Morrison's future, but Ms Bailey had essentially made up her mind: Mr Morrison no longer had her backing or that of the board.
Loading
In July 2006, Ms Bailey met Mr Howard and convinced him the relationship had deteriorated to the point where Mr Morrison had to go. "I accepted the minister's advice and backed her," Mr Howard said.
Mr Morrison has not disputed the breakdown of the relationship with Ms Bailey.
It was left to then-Tourism Australia board chairman Tim Fischer to break the news to Mr Morrison that his time was up, just over halfway through his three-year contract.
Those closest to Mr Morrison believe he didn't see it coming.
"He would have thought he was safe and should be running the place," one of his friends says. "He really didn't see it, and he was gutted."
Mr Morrison was approached for comment.
The Morning Edition newsletter is our guide to the day's most important and interesting stories, analysis and insights. Sign up here.