That is, until you ask Gilmore.
"We are all just bits of dust particles floating on Earth, so I've never been able to take things too seriously, but at the same time I do know how much it means to me," she says.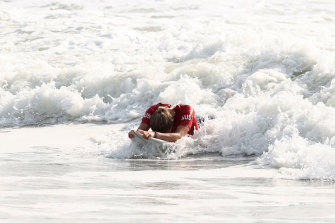 "You never know what life will throw at you, look at COVID, so if you can just be like water and kind of flow with it, enjoy yourself and be respectful to the people around you, that's what I strive for."
It's not every day an athlete drops a bit of Epicurean philosophy to deflate the hype. Unwittingly, or perhaps deliberately, Gilmore is exempting herself the anxieties of fellow finalists, imposing a champion's distance between her and, most importantly, them.
Interestingly, Gilmore has worked with mindset coach Ben Crowe, who has also advised tennis player Ash Barty. Crowe defines success as knowing you're worthy of chasing your goals and dreams, regardless of whether you achieve them. The surfer also credits her family upbringing in far northern NSW for this outlook.
Loading
Gilmore revels in the joy of best. She excels in moving between lithe and athletic, exercising uncanny anticipation and displaying an ability to read and, at times, manipulate opponents. She also has an ability to navigate the ugly.
"I'm lucky in my life that I have a professional sport where I'm able to challenge myself and test things out all the time," she says.
"The ocean is forever changing and the challenges are just forever changing as well. I always want to be the most impressive on the wave. I've won events before where I actually don't think I wasn't too excited on my performances throughout the event. But I just think that I really held it together strategically in different heats.
"I know that some people don't like that feeling, but I think it's great for people to be pushed outside their comfort zone and see how they perform, and then figure out ways that they can deal with it, and still make good decisions, good decisions under pressure."
Loading
Excited and intrigued by the WSL finals at Lower Trestles, where she has won an event and scored a perfect 10 score for a ride, Gilmore says the new winner-takes-all, knockout format will be her greatest challenge.
The physical demands of potentially six heats, lasting 30 minutes each, will be incredibly taxing. There will be no jet-ski assists to ferry surfers back to the line-up after they've completed a wave. It's all woman-power, Gilmore says.
"If I win I will be in a state of disbelief," she says. "To come from such a low ranking and take the world title in the last event of the year, that would be something to celebrate.