A few Manly wags reckon Des Hasler will be happy his side is back under the radar. But it's a long way to a grand final appearance now.
Well, that's a wrap from a one-sided match to start the finals at the end of a season dogged by blowouts, minor premiers Melbourne far too good for a quiet Tom Trbojevic and the Sea Eagles 40-12 at Sunshine Coast Stadium. Stay tuned for all the talking points out of the match, including Josh Schuster's nervous wait to see whether he attracts a charge for a lifting tackle on Jahrome Hughes. And how Brandon Smith's swollen face comes up in the morning.
Thanks for joining us and make sure you tune in for the big doubleheader from Queensland Country Bank Stadium at Townsville on Saturday evening.
Good night.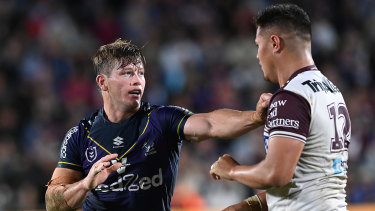 And to think the Storm still have Josh Addo-Carr to come back as well. Scary.
If they can win their next game, that will be their fifth grand final appearances in six years. Is there a better or more consistent team in Australian sport? Maybe the Perth Wildcats? Certainly in the major football codes, it's hard to go past them as the No.1 in this land.
On their side of the draw will now be the loser of the Panthers and Rabbitohs game and the winner of the Eels and Knights. It's hard to see the Storm not making the grand final, to be honest.
Incredible club.
Fair to say that's a reality check for the Sea Eagles, who were never really in the contest after that early mistake led to Melbourne's first try.
How do they turn it around from here? Will Tom Trbojevic be given more latitude next week? Will Josh Schuster escape suspension when the match review committee meets in the morning? So many questions (and I don't have the answers).
But I do know Melbourne were exemplary without the ball tonight.
"It's like they had watched them train," Phil Gould tells Nine. "The whole Manly side were made to look dull."
Do they still have spies these days at training? Andrew Johns is coming in off the long run – and might have hit the nail on the head.
"Manly beat themselves tonight," he tells Nine. "Stupid errors, poor discipline."
Two-try hero Ryan Papenhuyzen is speaking to Nine after another superb game following his return to form last week after a long lay-off due to concussion. And how about the cheeky two-point field goal right on full-time?
"That's such a great feeling," he said of the win. "I'm sort of lost for words. That's one of our better performances this season.
"The confidence is good. Obviously, match fitness was lacking a bit early, but I'm feeling really good now. When we're on a roll and completing high it just makes my job easier. My confidence is back. I have to stick to my role and I'm sure we'll go well if that's the case."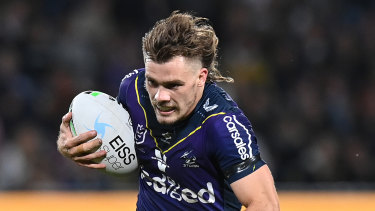 Just for giggles, Ryan Papenhuyzen has kicked a two-point field goal right on full-time so they could reach that magical 40 points again. What else was he going to do?
The winning machine just keeps on rolling on, the Storm taking the lead within three minutes and then never looking back to trounce the Sea Eagles 40-12 at Sunshine Coast Stadium. Just for a change, they're into another preliminary final where they'll be short-priced favourites to make another decider.
Manly? They'll have to quickly recover and will await the winner of the Roosters-Titans game on Saturday night. Again, the Storm proved there is a way to shut down Tom Trbojevic. He was the quietest he's been all season. And they still haven't beaten a top four side all season.
And that's probably due to Craig Bellamy, who proved why he's the master yet again. The more things change, the more they stay the same.
And right on cue, the Melbourne man has just raced his way over to put the icing on the cake for Craig Bellamy's men, who are heading to another preliminary final.
The world's biggest man, Nelson Asofa-Solomona, crashes into the Manly defence and then pops a pass for Olam, who is in acres of space and only has a short burst over the line. Great stuff.
Ryan Papenhuyzen has had a super night with the boot and sneaks this one inside the right upright to make the score 38-12 with just two minutes left.
Clinical, clinical Melbourne near their best tonight.
He's had another one of those nights…
And talking about last roll of the dice stuff, Manly has just blown their captain's challenge in a desperate bid to keep possession as Reuben Garrick tiptoed down the sideline.
Storm prop Christian Welch has just huffed his way to the bench after a stellar stint. He's so crucial to Craig Bellamy at the moment. Inside the last six minutes and the Storm will soon be only 80 minutes from another grand final.
Just a reminder, the Sea Eagles will play the winner of the Roosters and Titans clash if the result stays as is. The Storm will progress straight to the grand final qualifier with the all-important week off.
It's been a very ill-disciplined performance from Manly so far, maybe a huge portion of that because of the pressure added to them by the minor premiers. Perhaps the only benefit is they're already based on the Sunshine Coast, while the team they meet will have one less day to recover and a gruelling round trip to Townsville.
It's still 32-12 in favour of the Storm and we're inside the last 12 minutes.
Last roll of the dice stuff now…
They're just not helping themselves, are they?
Melbourne have now padded their lead beyond three converted tries after a high shot from Tom Trbojevic allows Ryan Papenhuyzen to pot a simple penalty goal. He is human after all.
It's now 32-12 with just 19 minutes left.