The NRL was forced to abandon two planned meetings with NRLW players on Friday after the players refused to take part, having been angered by the governing body's refusal to disclose information to the RLPA beforehand.
Roosters star and players' union board member Hannah Southwell said the NRL organised meetings with the women's playing group on Friday afternoon to provide an update on contracts following the postponement of the 2021 season.
The first meeting was to discuss negotiations with the 30 elite players on central contracts, while the second was to discuss the contracts of the remainder of the players. The NRL confirmed both meetings were abandoned, with details instead sent to players in writing.
Southwell said players had decided not to take part after the NRL refused to send the RLPA proposals to be discussed in the meetings.
Southwell claimed that instead of contacting the RLPA, chief executive Andrew Abdo had called a number of the senior players about 8.30pm on Thursday to remind them of the meeting the next day and to say it would be "good news".
"I found that inappropriate," Southwell said. "I texted to say it was great there was an update, but we'd still like the information to be sent to the RLPA beforehand. He just didn't reply. So we told all the girls we've got to stand together and we're not going to jump on the meeting. So, that's what we did."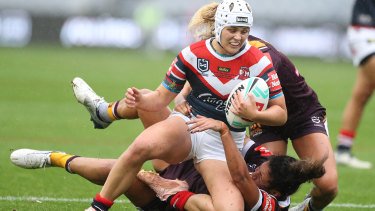 In a note sent to players, the NRL said it would provide all NRLW players with a $3500 COVID-19 relief payment. The 30 centrally contracted players will have their deals honoured in full and receive between $8000 and $12,000 each on top of the relief payment.
Abdo said there was nothing more to discuss in relation to the contracts. "It's not an offer," he said. "This is all contracted and we've provided additional support, which is quite significant."