In a video message last week marking the 70th anniversary of the ANZUS treaty between Australia, the US and New Zealand, Biden said the partnership between the United States and Australia remained as "essential today as it has ever been" and praised the "easy mateship" between the two nations.
Preparations for the Quad meeting came as Biden held his second phone call with Chinese leader Xi Jinping since he took office.
"It is the Indo-Pacific that will now shape the destiny of our world in the 21st Century."

Scott Morrison, Prime Minister
The official White House readout of the call said it was part of Biden's "ongoing effort to responsibly manage the competition between the United States and the PRC".
"President Biden underscored the United States' enduring interest in peace, stability, and prosperity in the Indo-Pacific and the world and the two leaders discussed the responsibility of both nations to ensure competition does not veer into conflict," the summary of the call said.
Once disparaged for failing to live up to its promise, the Quad grouping of the US, Australia, India and Japan has rapidly emerged as an influential bulwark against China's growing assertiveness in the region.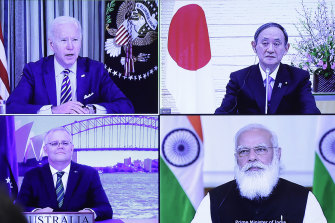 The Quad leaders held their first meeting via teleconference in March, where they pledged to distribute one billion COVID-19 vaccine doses to developing countries in the Asia-Pacific.
"It is the Indo-Pacific that will now shape the destiny of our world in the 21st Century," Morrison said at the meeting, adding he believed the virtual summit marked "a new dawn" in the region.
Infrastructure spending is expected to be an important focus of the Washington meeting, as well as vaccine distribution which was disrupted when India was hit by the Delta strain.
Long-held plans to hold the first face-to-face leaders meeting this month appeared to be thrown into disarray when Japanese Prime Minister Suga announced he was stepping down from the prime ministership.
Loading
But the Biden administration decided it was not worth delaying the meeting given Suga's replacement will come from the same party and pursue the same foreign policy goals as his predecessor.
On the day the last American troops left Kabul, Biden said the US was turning the page on its Middle East-focussed foreign policy over the past two decades.
"The world is changing," Biden said. "We're engaged in a serious competition with China. We're dealing with the challenges on multiple fronts with Russia. We're confronted with cyberattacks and nuclear proliferation."