As such, shredding during levels is epic and effortless; you just hold down a button and Francis wails or noodles as appropriate to the sci-fi scenery and background score. It sounds natural and extemporaneous, and can cause shifts in the environment or give you extra lift in your jumps, but you can also use it just to express yourself as you run around.
"The story's not really about Francis becoming a better guitarist, it's more about the satellite aspects of an artist's creative medium work," he said.
"Not his music but the imagery he associates with it. The rumours, and the costumes he wears."
As for how Beethoven & Dinosaur got in the door with Annapurna in the first place, Galvatron said the publisher reached out after seeing the game featured in a Kickstarter funding campaign, which lead to a meeting at the gaming convention PAX.
"They were like 'the game looks really cool. Are you going to be at PAX?' And I was like 'yeah absolutely, we got a table, see you in three months'," he said.
"But we didn't have a table. We didn't even have a demo. I called in every favour I could, got one of the last tables at PAX, made a demo, they played it, and the next day they took me out to lunch."
Massive Monster, a team based in Melbourne and the UK whose upcoming game Cult of the Lamb was recently revealed to millions as part of the international Gamescom conference, had a similar story about being picked up by a major publisher.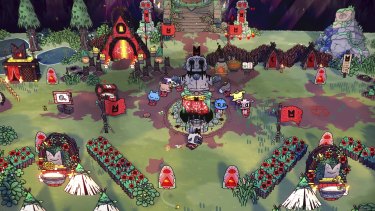 In that case, the team was hoping to get noticed by Devolver Digital, a US-based publisher known for focusing on smaller-scale and offbeat games.
"We're big fans of theirs and we had no idea if they'd just ignore us. To get hold of them we actually guessed their email address," said design director Jay Armstrong.
"The email happened to go through, and they got back to us like 'okay yeah, thanks thanks.' And then a few days later they kind of went, 'oh, actually, let's have words about this game.'"
Loading
The dark and charming game, which will be published by Devolver early next year, sees players take the role of a possessed lamb who has to manage a cult of adorable woodland creatures while also developing a home base and fighting deadly creatures in the surrounding regions.
Creative director Julian Wilton said at one point the game was about building and managing your own hell, but that it was too uncomfortable to be torturing the creatures given how cute they are. Somehow, it's more palatable in a cult setting because they take their punishments willingly.
"They'll all kind of worship you, but they're very needy and you have to look after them. They can even start being naughty, might dissent against you," he said.
"So you might have to do a dark ritual, like a sacrificial ritual, to get rid of that guy. Or a ritual to get more powerful. Or a daily sermon to change their thoughts. A bit of brainwashing. They love it. They're happy about, they're in it for the cult."
Get news and reviews on technology, gadgets and gaming in our Technology newsletter every Friday. Sign up here.