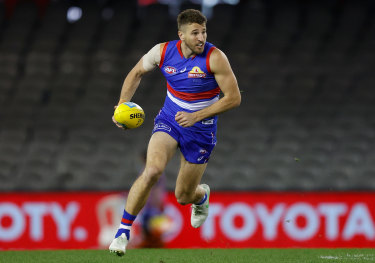 CLAYTON OLIVER
Likewise, at the Demons, just how Christian Petracca is viewed by the umpires could noticeably shape Oliver's final tally. Oliver is arguably the slight overall favourite but Wines has that honour with some bookies, probably because, of the three top chances, Wines is arguably the least likely to lose crucial votes to a teammate. Oliver starts with a blast and finishes with a near-certain BOG against the Cats. If the hard-at-it midfielder has six votes after two rounds (strong games against Fremantle and St Kilda), it's a good sign for him. Petracca, however, is also in the mix to be the overall leader after five rounds. Oliver's influence across the season is pretty even but he had two patches (rounds 8-12 and rounds 17-21) when he'll be looking to cash in. The ABC gave Oliver BOG honours six times, while Champion Data project him to get the maximum 15 votes from five games.
OLLIE WINES
Interestingly, Wines' vote-gathering history is relatively modest. His career-best return (18 votes) came in a top 10 finish during Dusty's stunning 2017 season, but it's been patchy since (14 votes in 2018, six votes from 12 matches two years ago and 10 votes from 17 games last year).
This vote-winning history doesn't compare that favourably with Bontempelli, for one example, who already has 97 career votes in seven seasons, including 22 votes and an eighth place finish two years ago when proven vote-winner and two-time champion Nat Fyfe did his thing again.
Wines was highly-regarded by Age scribes this season, a runaway winner of the publication's footballer of the year award, considered among the best five players on the ground in all but three matches. Furthermore, the ABC judged him best on ground eight times.
WHO ELSE TO WATCH
St Kilda midfielder Steele is on the 'next rung', below the Oliver-Bontempelli-Wines triumvirate, and considered the fourth-best chance for the medal. But predictions do open up when you look beyond the top three chances. Steele, 25, is unlikely to have votes ripped off him by teammates, but will 10 wins from the up-and-down Saints get him over the line? Look for Steele to finish with a flourish. On top of a hot run of form after the club's round 14 bye, Champion Data is tipping him to secure at least nine votes from his final four matches.
Another midfield gun who'll have a mortgage on the most number of votes at their club is silky-smooth Blue Walsh. The 21-year-old polled well with Age scribes and almost all predictions have him comfortably polling more than 20 votes. The question is: how far, and will his return be close to this year's winning total?
Hawthorn's 2018 winner Tom Mitchell, Bulldog Macrae, much-improved Essendon runner Darcy Parish, Brisbane's Jarryd Lyons, Demon Petracca, veteran Swan Luke Parker and Crow Rory Laird are among the names to keep your eyes peeled on.
EARLY BOLTERS
Cast your mind back to early April. The season was barely a few weeks old but Adelaide's Taylor Walker had already kicked more goals than his overall output in 2020. After round three – when Tex booted six goals in Adelaide's win over Gold Coast – the bullocking Crow already had 17 goals. Walker certainly didn't maintain the pace – with 48 majors from 17 games and his season ending in inglorious fashion after a racial slur – but his stunning surge meant the 31-year-old was responsible for a remarkable remake of Coleman Medal betting markets. It also means his name stands out boldly on betting markets for the leading vote-winner after five rounds. The eye-catching names of Dustin Martin, Mundy and Boak – alongside Oliver and Wines – should make for an intriguing start.
CLUB LAND: DYNAMIC BOMBERS
Leading vote-winners at individual clubs offer a mix of validation of a player's worth and sometimes surprise about how the game's officiators view the performances of specific players. For some of the lowly clubs – those with pull together only a few victories – a player can often lead the way with only a few votes overall.
It's not the case at Essendon, however, where two guns who could both finish in the overall top 10 and push strongly for the top five – Parish and Zach Merrett – are bound to fight it out for the most votes in the red and black. The two midfield guns were neck-and-neck in The Age award, in 10th and 11th positions respectively, separated by just one vote. Parish, after a breakout season, snared 21 votes from the ABC and is overall considered a better medal chance than his more experienced teammate.
At Adelaide, Laird should comfortably get it done while Walker may have done enough early to secure second spot.
The near certainties? As mentioned, it's Walsh at the Blues and Steele – with a podium spot awaiting with some pundits – at the Saints.