In 1947, US State Department official George Kennan, using the pseudonym "Mr X", published an article entitled The Sources of Soviet Conduct. It called for a policy of containment towards the Soviet Union and established the foundation of future US foreign policy. The Cold War had begun.
More than 50 years later, the September 11 attacks on the World Trade Centre and Pentagon were a similarly transformative moment, one which led to the declaration of another type of war, the war on terror.
The flying of planes into the World Trade Centre buildings in New York was far from the first act of terror the world had seen, but the image of the burning towers was so seared on our retinas that it seemed to demand action of a similarly serious kind: not just investigation and punishment, but the commencement of a war.
Twenty years later, that war has obsessed Western nations for a generation. It is steeped in ambiguous victories and moral and military compromises. Its consequences profoundly affect us still.
The war in Afghanistan is the clearest recent example. The withdrawal of Western forces from Kabul was supposed to happen, symbolically, on September 11, but was accelerated thanks to a resurgent Taliban, which we thought we had vanquished decades earlier. The war in Iraq was another consequence of the attacks on New York and Washington. That in turn helped give birth to Islamic State.
The recent commencement of the trial in Paris of 20 men accused over the deaths of 130 people in co-ordinated attacks in Paris in 2015, including on the Bataclan concert hall, reminds us of the damage Islamic State has caused in the West.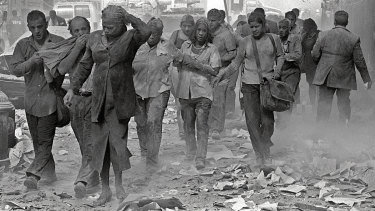 Under the banner of the war on terror, we have accepted a much more intrusive set of security laws. The federal government recently passed the Telecommunications Legislation Amendment (International Production Orders) Act 2021, which allows police and intelligence agencies to demand technology companies produce individuals' encrypted data.
September 11 also contributed to the rise of Islamophobia in the West, which has made Muslims, alongside Jews, the targets of neo-Nazis and radical right-wing terrorists such as Brenton Tarrant in New Zealand.