Loading
Friday's caseload of 334 amounts to another daily record since August last year, surpassing Thursday's 324 cases.
There are now 2426 active cases in the state.
Melbourne's road out of lockdown now depends on vaccination targets and Victoria's COVID-19 response commander Jeroen Weimar says the state should "smash" its initial expectation of vaccinating 70 per cent of eligible people with at least one dose by September 23.
"We think we'll smash that by quite a few days," Mr Weimar said.
So far, almost 64 per cent of Victorians have had one dose of a vaccine. Mr Weimar said 71,000 people made COVID-19 vaccine bookings yesterday and another 10,000 AstraZeneca doses were available over the next seven days, but stressed Melburnians had to be vaccinated in greater Melbourne.
"Let's be really clear: If you live in metro Melbourne, you can go to any vaccination centre within metro Melbourne, you can go to your GP, you can go to another GP, that'll take you, you can go to one of our state clinics within the metro area, you cannot go to regional Victoria for a vaccination, you cannot go to regional Victoria for a test," Mr Weimar said.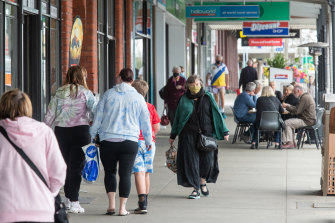 The rules were tightened, Mr Weimar said, after restrictions were eased in regional Victoria and there was a possibility a positive case in Mildura had gone to get a vaccine and visited family at the same time.
Mr Carroll said Premier Daniel Andrews and Chief Health Officer Brett Sutton were working "day in, day out" on a yet-to-be-announced road map out of the state's sixth lockdown.
"We're focused on getting vaccination rates up. We know that more vaccinations is the best thing we can do when it comes to combating the Delta variant," Mr Carroll said.
Mr Carroll would not provide a date for announcements to be made, but said Deputy Premier and Education Minister James Merlino is working with schools on a plan to get students back in the classroom.
Premier Daniel Andrews has previously promised a mild relaxation of restrictions once 70 per cent of eligible people have had at least one dose of a vaccine in coming weeks.
On Thursday, 39,027 people received a dose of a vaccine.
According to the federal Health Department's data released on Thursday, 63.5 per cent of eligible people in Victoria have had one dose of a vaccine while 39.4 per cent have had two.
Lockdown came to an end for regional Victoria overnight, except for Shepparton which is at the tail-end of an outbreak of the Delta variant of coronavirus.
Most of Thursday's 324 cases were recorded in Melbourne's north (195) and west (102), prompting fears the outbreaks were worryingly similar to a fast-moving outbreak that had hit south-west Sydney.
Mr Weimar said that containing widespread transmission in the north and western suburbs and holding on to restrictions for the time being would stop Melbourne from catching up to Sydney's caseload.
Loading
"I think it is still in our hands," Mr Weimar said. "We have it within us, if we grip this up, stick with those directions, stick with those difficult things we're being asked to do for a relatively short period of time."
NSW announced 1542 new local cases and nine deaths on Friday, as NSW Premier Gladys Berejiklian said she would no longer be holding daily press conferences from Monday.
Ms Berejiklian said "the public knows we are working on the case 24/7" but she did not think having a daily press conference was sustainable.
"I will turn up when I need to but to expect the leader of the government indefinitely to do this every day means that I am not doing my job properly," she said.
The decision comes after Ms Berejiklian, informed by modelling by the Burnet Institute, flagged the highest case numbers in the state were expected to occur in the next fortnight. Hospitalisations in NSW are expected to reach a peak in October but would stop the press conferences before the peak is reached.
"We will never know exactly when that is," Ms Berejiklian said. "I can assure the people of this state and they can judge me on my record, whenever I need to speak directly to the public, I absolutely will."
Epidemiologists and the state's Australian Medical Association on Thursday told The Age the government should provide incentives to help people stay home and to bring vaccinations forward for essential workers in the north and west.
Acting Chief Health Officer Ben Cowie said the west and north had a higher proportion of essential workers who were unable to work from home, larger families and culturally and linguistically diverse communities who faced barriers to healthcare.
On average, these suburbs also have more young families, including many people who have only recently become eligible to be vaccinated.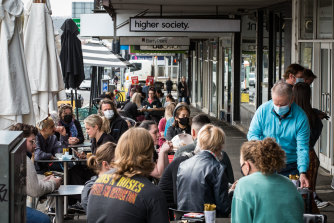 Childcare centre, law firm among dozens of new exposure sites
Health authorities added dozens of COVID-19 exposure sites on Friday, including the offices of professional services firm EY in Melbourne's CBD and a caravan retailer in the city's north.
Both sites were listed as tier-1 exposures over multiple days and anyone who was there during the specified times is required to get tested and isolate for 14 days regardless of the result.
A Cragieburn childcare centre in Melbourne's north was also added as a tier-1 venue along with various work sites across the city, including a demolition contractor in Malvern, an electrical wholesaler in Coburg North and a Linfox national distribution centre in Somerton, in the city's north.
Tier-2 additions included a cafe at the Northern Hospital in Epping, a metro train line, a KFC in Fawkner and a public housing tower in North Melbourne.
Police watching roads out of Melbourne as regions exit lockdown
Victoria Police are patrolling roads leading out Melbourne in a bid to stop city residents fleeing to the country, where some lockdown restrictions were eased from midnight, warning anyone caught breaching the rules would be fined $5452.
However, Deputy Commissioner Rick Nugent told radio station 3AW only one person had been fined overnight.
"Other than that it was very, very quiet. We were not seeing the exodus of people which is fantastic," Mr Nugent said.
Booze buses have also been deployed at random checkpoints as part of the police operation and officers will be monitoring tourist areas such as the surf coast over the weekend.
Police are also checking identification of people on V/Line trains and in venues in regional towns.
VCAT hearings postponed due to potential COVID-19 exposure
All hearings listed with the Victorian Civil and Administrative Tribunal (VCAT) for Friday and Monday have been postponed after a potential COVID-19 exposure.
A spokesperson said the tribunal was working closely with the Department of Health "in relation to a potential exposure of a COVID-19 case at a VCAT premises earlier this week".
"All VCAT matters listed for Friday 10 September and Monday 13 September have been postponed. Parties that are impacted by these adjournments will be updated on their new hearing dates as soon as possible."