The Bulldogs and Melbourne famously met in the 1954 grand final which the Dogs won.
For so long it was the Bulldogs' only VFL/AFL premiership, before they broke their drought in 2016 for flag No.2.
And now the Bulldogs will be aiming to make it a third premiership against the Demons again, 67 years later, in a fortnight's time at Optus Stadium.
Meanwhile, Bailey Smith now has a game-high four goals and with 5:00 left in the game, the margin is back out to 70 points, 17.13.115 to 6.9.45.
The legend of Bailey Smith continues to grow. The star Bulldogs midfielder bangs home his third goal with a long-range bomb from the boundary line and for the second final in a row, he has three goals to his name.
His career-high was two goals before this finals series, and he has now booted three twice in a row. He is building one hell of a reputation now as a big-game player.
The Dogs, incredibly, are out to a 70-point lead, 16.12.108 to 5.8.38. It's been a masterclass from the get-go.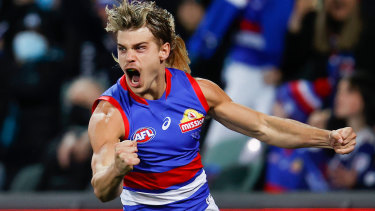 Vandermeer (hamstring tightness) has been replaced in the Bulldogs' line-up by Scott at the start of the final quarter, and the medical sub has made the perfect start to his involvement in the game, dobbing a beautiful checkside punt from the pocket while being tackled by Bergman.
And as the rain starts tumbling down, the Bulldogs now lead by 64 points, 15.12.102 to 5.8.38.
It's been one hell of a shellacking and I'm not sure too many people saw this coming.
Port Adelaide 1.1, 3.4, 5.8 (38)
W.Bulldogs 7.2, 12.8, 14.12 (96)
GOALS
Port Adelaide: Wines, Houston, Bonner, Dixon, Marshall
W.Bulldogs: Hannan 3, B.Smith 2, Naughton 2, Bontempelli 2, Vandermeer, Johannisen, R.Smith, Schache, Treloar
DISPOSALS
Port Adelaide: Macrae 31, Daniel 18, Liberatore 18, B.Smith 18
W.Bulldogs: Wines 28, Bonner 27, Boak 20, Houston 20
INTERCEPTS
Port Adelaide: Houston 9, Aliir 8, Bonner 6
W.Bulldogs: Daniel 8, Macrae 7, Liberatore 6
The Bulldogs are thumping the Power in contested possessions 129-98 and scoring shots 26-13 while they also lead the disposals 280-271, clearances 33-24 and inside 50s 46-36.
How often do we see this in football?
One team dominates play for an extended period, but fails to convert that ascendancy onto the scoreboard. Then the opposition gets a goal against the run of play.
On this occasion Schache's snap set shot from the boundary line snuffs out any semblance of momentum the Power might have garnered since the major break.
With 2:57, left in the third quarter, the Dogs get their first goal of the second half, and more importantly they extend their lead to 51 points, 13.10.88 to 5.7.37.
The Power have done a good job of shutting the Dogs down in the third quarter, keeping them scoreless, however the hosts have only managed 2.2 themselves.
Ken Hinkley's men need to hit the scoreboard a lot more during this period if they are any hope of getting back into this contest.
With 9:00 left in the third quarter, the Bulldogs lead by 44 points, 12.8.80 to 5.6.36.
Leading disposals: Macrae 26, Bonner 21, Wines 21, B.Smith 17, Boak 16
Incredibly, Naughton (five) has taken more contested marks than Port Adelaide (four) so far tonight.
As we near the halfway mark of the third term, the Dogs lead by 45 points, 12.8.80 to 5.5.35.