"The referees department spend way too much time going through complaints from coaches every week. Yeah, I occasionally do it, probably one out of 10. How is the referee's department supposed to get better when they are constantly having to deal with club's complaining?
"It's not just tonight, it goes on all year. It's obviously heightened at finals time. It's allowed to happen so I can't knock anyone doing it. If you allow public manipulation and indirect influence, then I would say you are only human if you are a referee. "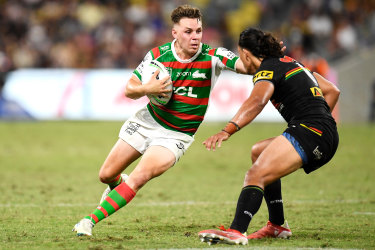 Bennett was having none of it, saying it was Cleary who dragged the matter into the public domain and suggested his initial query after the round 23 clash was leaked to the Panthers because Cleary used to be a consultant to the NRL referee department.
"I didn't start the conversation publicly. I said nothing publicly. This happened three weeks ago. I sent some information to the referees for clarification. I wasn't going public with anything until Penrith came out with the public statements and I just responded to those. I wasn't going to sit back and not stand up for my team and my players," Bennett said.
He said he agreed that coaches should be banned from making public comments that could influence referees but defended the right for coaches and clubs to seek rule clarifications from the NRL.
"I couldn't agree with him more on that (public comments) but that's why I didn't say anything. I didn't say anything for three weeks. We played them three weeks ago, he was the one that came out and started mouthing off.
"Just get that in perspective. So if he's critical, he's critical of himself. But South Sydney had no say whatsoever until he came out and talked it all up.
"There's no public manipulation. I saw an incident in the game that I didn't like. Surely it's my right to ask the referees what their interpretation of that is… that's what I did, that's the process. If that's manipulating the game, you're all kidding yourselves.
"That's manipulating nobody. And if the referees can't handle that – and I'm sure they can – I'm sure I'm not the only coach to question a decision. That's what they are there for but keep it in house. I didn't put it on the front page, I never said a word. Three weeks ago I did it. Three weeks.
"We should have that right (to speak to the NRL about rules). You can't take that away from us. The public comment? Yeah, I'm a fan of (ending) that. But I didn't start this one. "
When Bennett again insisted he didn't start this particular fire, he was asked who did?
"Ivan did. He worked for them, he worked for the referees before he went back into coaching. I've got to assume he's got some mates there still. That's not my department. I'm just telling you the background of it."
For Bennett, the view was much better from the winning side of the desk and he couldn't help but find some enjoyment in the drama of it all.
"It was good theatre, wasn't it?" Bennett said. "Got everybody pumped up a bit?"