Her second son, Prince Harry, has also had a difficult relationship with the media and has vowed to protect his wife, Meghan, and their family. In 2019, he said: "I will not be bullied into playing a game that killed my mum."
While a few said they were looking forward to watching the new musical, many came to the same conclusion: nobody asked for this.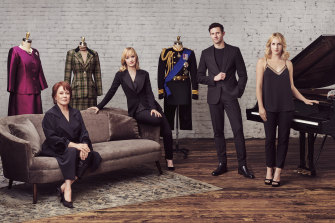 British journalist Rebecca Reid labelled the trailer "the worst thing I've ever seen," while royal commentator Richard Fitzwilliams told The Washington Post that the trailer "had a synthetic look as though it was a piece of merchandise, with Diana's face on it".
However, the story of Diana, who is still revered by many in the United Kingdom as "the people's princess," has continued to interest audiences – and producers.
British actor Jeanna de Waal, who plays the star role in the musical, told The Daily Beast in an interview last year that the production was "done with tact," and that the cast was "trying to portray a human story."
Loading
"I feel such a responsibility to Diana, she's so present and in the zeitgeist," de Waal said, adding that "no one is playing a caricature purposefully".
De Waal said she would love Diana's sons, Prince William and Prince Harry, to see the musical but acknowledged "that watching me play their mother at dramatic moments in her life might be very upsetting for them."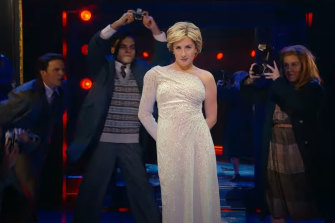 Last year Netflix faced calls from the British government to add a disclaimer to hit-drama The Crown, in a bid to warn viewers that the series was not 100 per cent accurate, amid concerns that viewers would not realise that the series was, in fact, fiction.
"We have always presented The Crown as a drama – and we have every confidence our members understand it's a work of fiction that's broadly based on historical events," Netflix said in a statement at the time.
Loading
Those brave enough to channel the princess through performance have faced mixed results.
Kristen Stewart stars in the biopic film Spencer which premiered at the Venice Film Festival last week. It appeared well-received by British media, with the Guardian and Telegraph London both giving it five-star reviews.
By contrast, Naomi Watts portrayed the princess in the 2013 film Diana, although she later admitted to Harper's Bazaar that the movie took a "direction that was not the one I was hoping for" and referred to the experience as going down with a "sinking ship".
In July, HBO Max angered some Brits as it released a trailer for a new satirical animated series titled The Prince, which portrayed the royal family as a collection of dysfunctional and egotistical tea drinkers raising their young children to be spoiled and brutish tyrants.
The Washington Post