"It's about learning to walk lightly and live with nature gently," she said.
The Great Otway National Park is home to more than 700 plant species – some of which are endemic.
Roughly a quarter of Victoria's plant species can be found in the region, including more than 80 orchid varieties.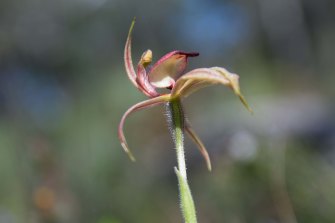 There are duck-shaped orchids while others resemble hearts, birds' beaks and spiders.
"I love the donkey orchids because they're so cheerful with their great big yellow ears," Ms White said. "All of the orchids are very delicate. They're not like those big blooming orchids you get in the tropics. They're small, but they're amazingly different in their varieties."
Much of the colour in the bushland at Anglesea and Aireys Inlet lies close to the ground.
Angair committee member Ellinor Campbell said the orchids could be particularly difficult to spot. She suggests adjusting your eyes to search for the small details.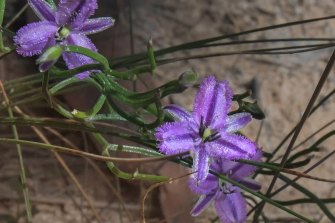 "We call it getting your orchid eye in. You're looking down," she said. "You're looking for small things – there's something there."
Surf Coast Shire councillor Mike Bodsworth, who represents Anglesea, said the presence of such immense variety of wildlife was a source of pride for the local community.
"For local people and visitors, it's super important they understand the tiny little things that are there," he said. "It's so easy to crush them."
But there is much more to the Otway bushland than orchids. There are Grass Trees with needle leaves and a brush-like spike that grows through the centre of the plant, blue Love Creeper flowers that wrap their vines around other plants and Twining Fringe lilies whose flowers last only for a day.
But most of all, Ms White loves the robustness of the bushland in the region and its tenacious capacity to survive adversity, such as bushfires.
She says we can draw strength from the resilience of Australia's flora and use it to help us survive the pandemic.
"You just put your roots down in the ground and say 'next year'."
Loading
Royal Botanic Gardens Victoria senior research scientist Noushka Reiter said the presence of orchids was often an indication of a healthy ecosystem.
Dr Reiter, a native orchid expert, said most Australian orchids required a specific fungi to germinate and were often only pollinated by a particular insect species.
"Usually, our spider orchids have relationships with Australian native wasps," she said. "Usually, it's one wasp to one orchid."
Orchids can also herald the arrival of spring but they flower for just a short time.
"They might flower for four or six weeks and that's it. They're gone until next year," she said.
To visit the Angair Nature Show go to angairnatureshow.org.au
The Morning Edition newsletter is our guide to the day's most important and interesting stories, analysis and insights. Sign up here.