Coles, ANZ, Facebook, Amazon, Medibank and Telstra are among the firms that have had sessions, which can accommodate up to 2000 people competing in small teams. To Postma's angst, all the companies want to run sessions at 4pm on Fridays, and he can't find enough people to host them.
Escape Room Melbourne is another local company that has taken its concept online. Its experience, fittingly called Isolation and hosted by an actor who guides the team and plays the main character, has been run nearly 200 times.
The group hosts about 15 sessions a week, for up to $200 each, which last two hours and are booked out until late October.
In this game's very meta scenario, you are in a Zoom call with friends when you realise someone else is on the call. He's trapped in a room alone and needs your help. No, it's not COVID, but you do need to "do your own research" to solve the crisis.
The company, which began the city's first real-life escape room in a granny flat in the back of a Flemington garden in 2014, spent more than two months developing the experience.
Manager Kathryn Kaehler described Isolation, which launched last October, as a "choose your own adventure" experience with multiple possible endings that uses Zoom, Drop Box, Google Drive and website links to offer clues.
"You have to be puzzly, quizzy, creative, curious. We have had doctors and engineers do poorly. It's not how smart you are, it's what kind of smart you are," she said.
"We've had people in Australia set up times with their friend in Hong Kong, and their family in the UK. It's not just having drinks on Zoom – it's doing something together."
Actor and host Matt Carson, who has a theatre background and began doing real-world sessions for the company about five years ago, said he improvises about half of each experience.
"They can see me, they can hear me, I can see them … I'm reacting to what the team is suggesting to me," he said.
"It's the same thing as performing a theatre show – the energy the audience brings makes it different every time.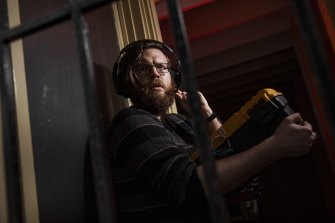 "Ever since the start of lockdown No.5 in Melbourne we've been completely booked out."
"This is very much an experience that was made in isolation about isolation … It's about helping people, compassion and understanding."
Even returning Olympians have gotten in on the action, with a group of the bronze medal-winning Boomers playing from their respective rooms in hotel quarantine on return from Tokyo.
"They did very well, both in the experience and in the Olympics," Carson said.
The Morning Edition newsletter is our guide to the day's most important and interesting stories, analysis and insights. Sign up here.