In the spectrum of current brand/celebrity relationships, even after Jay-Z and Beyoncé's joint Tiffany partnership was announced, with its $2 million to historically Black colleges and universities, that's a big deal. In all senses of the word.
Along with Gorman's decision to be a co-host of the Met Gala on September 13 (she will not reveal what she is wearing — "Even my mother doesn't know," she said) and her books Call Us What We Carry, a poetry collection, and Change Sings, for children, both to be released later this month, the Estée Lauder deal is a new stage in her public profile. It is a stage in which she will use the levers of power she has gained, "the space I now occupy," she said, to advance an agenda she has been designing for the long term.
"From the moment I stepped down from the podium and looked at my phone, I could feel it," said Gorman. (Although she wasn't exactly anonymous before — she had been the first National Youth Poet Laureate — her public profile was relatively niche). "At the time, it was like a tsunami. It was a lot to take in: to realise what I had done had changed my life. I'm still processing it."
The question was: How would she use the spotlight that had been thrust upon her? Because she knew she was going to use it — although she didn't put it that way, exactly. What she said was, "All forms of light come with some form of shadows, and that doesn't mean you don't want to walk into the sun."
Still, a product endorsement, historic as it is, is not without risk. For a poet who sees her art as the sharp end of the spear of social change and who has publicly declared her desire to be president, taking on what to many will seem a brand ambassadorship is to potentially taint the purity of her own brand with the whiff of commercialism. As Gorman was aware.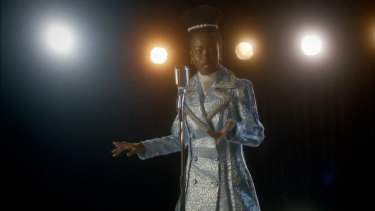 "I'm never just lending my body or my face," Gorman said. "They are getting my spirit, my breath, my brain." But, she said, "rather than letting the world tell me what I should be doing" — or not doing — "I realised this is my moment to tell the world what it needs to get done." And weaponising a big brand with a big platform to her own ends was an effective way to do that.
She (and her tightly knit team of agents and managers: literary, speaking and modelling) approached each offer with the same standard: Could it be used to achieve Gorman's stated goal of advancing literacy, equity and access? According to Steven Malk, a senior literary agent at Writer's House who has worked with Gorman for the past three years, she was "determined to show this on a major scale."
Enter Estée Lauder. According to Jane Hertzmark Hudis, executive group president of Estée Lauder Cos., she called Gorman's agent as soon as the poet walked offstage, and they first spoke within an hour of her appearance.
"I felt as committed and passionate about creating a partnership as I've been about anything," Hudis said — and she has been with the group for 35 years. "We essentially came to them with a blank page because we knew we could do something that hadn't been done before."
The New York Times
Get a note direct from our foreign correspondents on what's making headlines around the world. Sign up for the weekly What in the World newsletter here.