Loading
Victorians who are more than 24 weeks' pregnant will now be able to get priority access at state-run vaccine hubs.
A third staff member with V/Line also tested positive to coronavirus and more than 180 train drivers and operations staff are in isolation.
The positive cases resulted in widespread disruptions across the network, including the cancellation of 23 services during the day on Saturday.
Department of Health deputy secretary Kate Matson urged anyone in Ballarat to get tested if they had COVID-19 symptoms after traces of the virus were detected in wastewater in Ballarat South.
A record 39,148 vaccinations were administered at state-run clinics on Friday, with more than 42,000 COVID-19 test results received. There are 2793 active cases in Victoria and all but four are locally acquired.
Loading
Last week, the Victorian government accused its federal counterpart of secretly sending hundreds of thousands of doses to NSW. However, federal Health Department data shows the extra doses were almost entirely accounted for in publicly announced one-off boosts.
When asked about the allocation of doses across Melbourne, federal Health Minister Greg Hunt said Canberra has been working closely with the Victorian government to support a "Victorian blitz", as has occurred in Sydney's south and west.
"We will be supporting the Victorian state system, GPs and pharmacies with a second blitz over the coming three weeks, with a particular focus on the north and west of Melbourne. This is a deep personal passion and I have been working closely with the Victorian minister Martin Foley and Operation COVID Shield has also been working directly with Victoria," he said.
"Victoria is already well advanced in its program at over 65 per cent first doses. NSW was at 51 per cent with lower protection when cases led to a blitz in that state."
Victoria has been lagging NSW for months in the number of doctor-administered doses and the state government has been urging the Commonwealth to bring more Melbourne GPs and pharmacies into its vaccine program.
Mr Foley said on Saturday his government had begun sending more than half its available vaccine stock to state-run vaccine sites in the north and western suburbs, where the average age is younger and there are proportionally fewer GP clinics.
He called on the Commonwealth to immediately scale up the number of vaccine-distributing GPs and pharmacies in hotspot areas.
In the 37 days since Victoria's probable index case on August 4, Victoria has recorded 3331 cases. In the 37 days after NSW's initial case on June 17, the state recorded 1814 cases.
In the past week, the total number of cases in Victoria has grown by 86 per cent while in NSW it has grown by 24 per cent.
Victoria received 150,000 extra Pfizer doses and 150,000 extra AstraZeneca doses back in June.
NSW received its first emergency top-up of 150,000 Pfizer doses on July 15 when it was recording an average of 100 cases per day. Victoria's seven-day rolling average is about 350.
Since that July 15 top-up, NSW has received a separate extra 50,000 Pfizer doses, and then an extra 530,000 Pfizer doses secured in a deal with Poland.
A Victorian government spokeswoman said the state was "owed" about 340,000 in extra doses because of the prioritisation of NSW in recent months.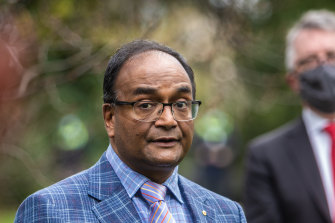 Former Australian Medical Association president Mukesh Haikerwal, who has been instrumental in setting up a vaccine hub in Melbourne's western suburbs, said governments had made a series of "undeliverable announceables" about people aged 16-39 and then 12-15 being eligible for the vaccines.
"There has not been enough vaccines and we have had poor supply in the west and north compared to the east and south [of Melbourne]," he said.
Loading
"In reality I think there has been a blind eye turned to the problems in the west and the north and it has taken locals mayors, the city council, to say we have to do this differently."
Hobsons Bay mayor Jonathon Marsden said the number of cases in a given area should be "the sole determining factor" in deciding where vaccines should be allocated.
Hobsons Bay, much like LGAs such as Hume and Wyndham, has experienced a big spike in cases. In the suburb of Altona North within the LGA, Mr Marsden said, one in 100 people had COVID-19 and whole streets were quarantined.
"I'm disappointed that the doses are not being distributed to where they are most needed," he said.
Stay across the most crucial developments related to the pandemic with the Coronavirus Update. Sign up for the weekly newsletter.