But the major reason for believing that May will play is that, as many current and ex-club football people will tell you, there are different approaches to playing injured players in grand finals, and it hinges largely on the worth of the player.
In short, the guns almost always play.
"You don't play your bad ones," said one former club official who's seen hampered champions put out on the field for that one day in September. "You play the good ones."
Some of the guns who were afflicted by injury performed well – Steve Johnson in 2011 (knee), Adam Goodes in 2012 (posterior cruciate ligament) and Nigel Lappin (2003, punctured lung!) are notable examples of rolling the dice successfully. But there's a fair number who were too constrained to fire: Phil Davis (knee) in 2019 (his pre-game warm-up did not inspire confidence), Jonathan Brown (knee) in 2004 and James Hird (groin) in 2001.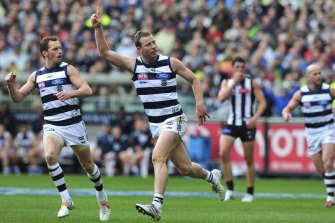 May is not a champion like Hird or Brown, but he is structurally important and also a valuable director of teammates from defence.
This column claims no expertise in hamstrings, whether they are small strains or the back-related hammy that Goodwin suggested as probable for May. But medicos with experience in such matters say that it is easier for a footballer to carry a joint injury than a muscle that is damaged or torn.
That May has a history of hamstrings arguably makes him a riskier proposition, assuming there is some damage. But, as one medico with an understanding of hamstrings explained, there's no question that he'd play if the MRI is clear, even if there's pain.
The risks of playing May, however, have been mitigated by the medical sub rule that Hocking introduced, at the last minute, a matter of days before the season.
Grand finals are different, obviously, because there's no next week. Yet, the risks of playing a player with even a slight muscle injury – and, again, we don't know the full prognosis – are still well-documented (Peter Moore in 1981 is a celebrated case, he did his hammy two weeks before the grand final and struggled badly).
Loading
May, as one medico explained, poses less of a risk to the Demons in 2021 than a player in a similar boat would in any previous season, simply because the Hocking rule – originally conceived as a concussion substitute – means that if he goes down with a hamstring, the Demons will still have 22 players, with versatile James Jordon the probable sub (Jordon's been sub for two months and would be dead stiff to lose that gig now).
The WA government's tough quarantine rules have already assisted May as ably as Jake Lever. The AFL opted to put the bye after the preliminary final as its own risk mitigation, in the event of border issues, fairness if applicable and also to give it more time to prepare for a Perth denouement.
The Hocking sub rule provides another layer of insurance, in a competition in which teams ruthlessly play the percentages.
All things considered, the risks of going without their premier defender may well exceed that of putting him out there.